Rupert Murdoch's 'Pie Wielding' Attacker Convicted Of Assault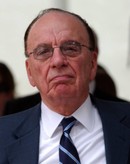 A man accused of attacking media mogul Rupert Murdoch with a cream pie during a recent British Parliament committee inquiry has been convicted of assault.

Murdoch and his son James were being quizzed over the News of the World phone-hacking scandal during a televised hearing in London when spectator Jonathan May-Bowles jumped over a railing and lunged at the 80 year old and attempted to slam a plate of shaving cream into his face.

The businessman's wife, Wendi, who was sitting directly behind her husband, fought off the assailant, who branded the mogul a "greedy billionaire".
 
Comedian May-Bowles, also known as Jonnie Marbles, was arrested and charged with assault and causing harassment, alarm and distress. The 26 year old pleaded guilty and was convicted of all counts on Friday. He will be sentenced on Tuesday.

Murdoch, owner of the News Corp Empire shut down the 168-year-old News of the World amid allegations a private investigator working for the tabloid had illegally accessed voicemail messages belonging to royals, celebrities, and crime victims.