Rupert Grint Takes Grief-Stricken Family To 'Harry Potter' Theme Park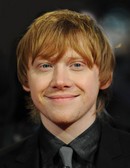 Christmas came early for one British family after actor Rupert Grint escorted them to Florida for an all-expenses paid trip to the Harry Potter theme park.

Grint was heartbroken to hear about the grief-stricken Carters, who have been struggling to cope with the loss of their mother Denise, who died giving birth to her and her husband Steve's fourth child in 2009.

The group's touching story was picked up by TV bosses and aired on U.K. special Noel's Christmas Presents, which aired on Sunday, and featured the family being granted their vacation wish and being showered with gifts for the holidays.

But, as an extra special surprise, Grint recently accompanied the group to Orlando to visit the Wizarding World of Harry Potter at Universal Studios and gave them a personal tour of the rides and wand shops.

Family patriarch Steve Carter tells film-news.co.uk, "The best thing was the look on the kids' faces. There are great memories and I know Denise was watching over us on the trip."