Runaway Bride Crystal Harris Parties With Heidi Montag In Vegas On Her Would-Be Wedding Day (Hot Pics!)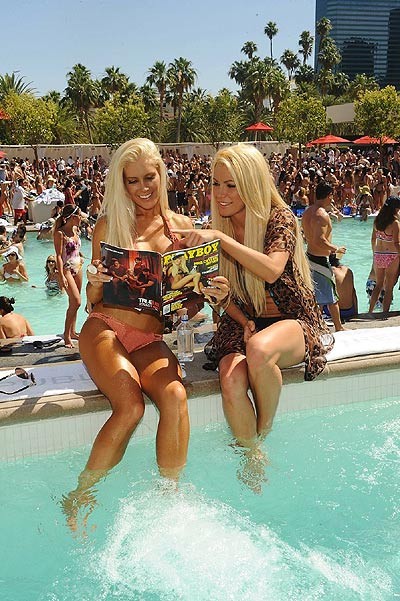 Saturday afternoon, Hugh Hefner's 'Runaway Bride' Crystal Harris ran away to WET REPUBLIC and spent what would have been her wedding day partying under the sun with Heidi Montag. Despite the negative feedback on jetting to Las Vegas, Harris seemed at peace with her decision to call off the wedding and head to Sin City to join the former Hills star.

Arriving 30 minutes apart from each other, both blondes entered the Vegas pool party destination looking better than ever as they separately stunned the crowd. Montag was the first to make an entrance as she arrived wearing a very short silk romper that covered her sexy peach bikini by Mikoh. The blonde bombshell quickly turned heads as she flaunted her svelte figure while posing for photos.

When Montag was asked her thoughts on Harris' current situation, she replied with "You just have to follow your heart."

Next to descend on WET REPUBLIC for an afternoon of partying, was Hefner's former fiancé who showed up just after 2:30 p.m. Harris posed for photos on the carpet with her head held high and a smile on her face while timidly showing off her amazing bikini body.

When asked how she was doing since the breakup and why she chose to come to WET REPUBLIC, Harris said, "I'm doing ok." "I just had to get away, today is the day, and I just had to get away."

When asked about why she called off the wedding to Hefner, Harris replied, "I wanted to be true to myself and be true to what was best for everybody," she said. "It was a mutual decision between the both of us."

"I'm giving Hef back the ring … I just want to move forward," she continued.

After the red carpet, Harris headed to her exclusive bungalow where she laid low for most of the day with Montag and other close friends as they relaxed and lounged by the pool. Harris even poked fun at herself as she whipped out the July issue of Playboy. The cover girl flipped through the magazine to show Montag as she talked about how much she loved the photos used in the spread.

Later in the afternoon, WET REPUBLIC played Harris' new debut single 'Club Queen' that was just released on Wednesday. When the Playmate heard her song, she immediately jumped off the couch, grabbed Montag and both started dancing by the pool for all eyes to see. For the remainder of the day, the girls kept to themselves as they sat side-by-side and Harris confided in Montag asking for her advice.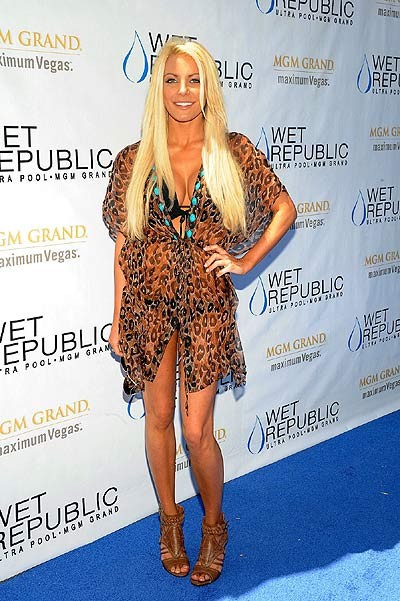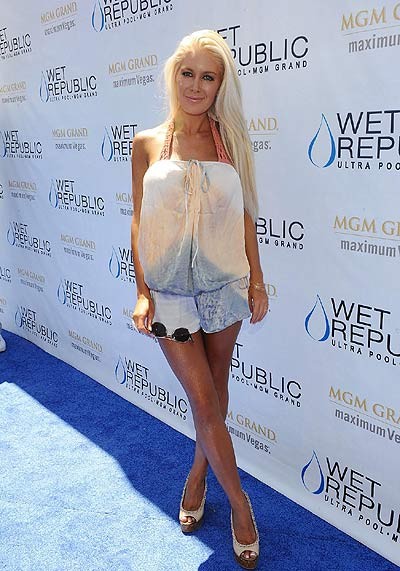 Check out more hot pics on page 2!