Rumer Willis Gets A Little Dating Advice From Mom Demi Moore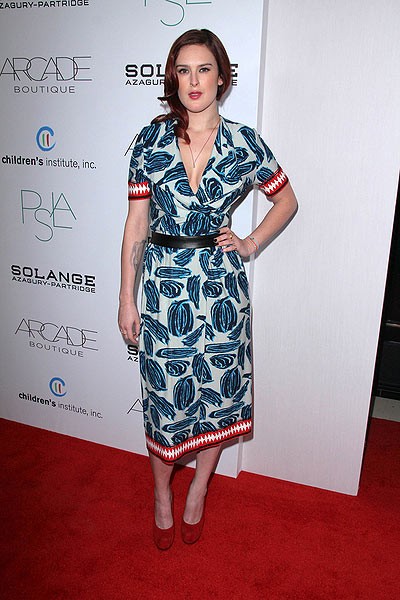 Rumer Willis was spotted at the 2nd Annual Autumn Party at The London Hotel in West Hollywood Wednesday night wearing an interesting blue/black patterned dress with a red and white 'zipper' pattern along the hem and sleeves. Rumer attended the charity event with the likes of former Hills star Lauren Conrad and actresses Amanda Righetti, Amy Smart and Jennifer Tilly, among others.

This year's Autumn Party, which benefits the Children's Institute, Inc., featured a cocktail party and runway fashion show by Israeli designer Yigal Azrouël.

Rumer recently accompanied mother Demi Moore on a visit to the set of Two And A Half Men where her stepfather, Ashton Kutcher, has been hard at work on the hit CBS show.

Demi and Ashton have been going through some troubled times of late, amid allegations that the Men star cheated on the actress with 22-year-old Sara Leal while staying at a San Diego hotel on their sixth wedding anniversary - but it seems that the two are going to try to work things out.

"Demi didn't come on the actual shooting set or anything -- she never does -- but she spent the day on the lot in his massive trailer," an insider tells Us Weekly.

And when Ashton returned to his trailer the pair acted like a normal couple.

"They were talking and smiling at each other. Everything seemed just like normal," the source says.

But despite things seeming well Demi is reportedly "humiliated" over the whole fiasco.

"She loves him, but can't forgive him for the embarrassment he has caused," says a source.

Rumer and sisters Scout and Tallulah (all three Moore's kids with actor Bruce Willis) are a bit distraught over the situation as well, as they've become close to Ashton over course of the couple's six-year marriage.

"They really care about their mom and adore Ashton; they don't want to think of him as a sex-addict monster like Tiger Woods," a source told OK! Magazine.

And when Hollyscoop caught up with Rumer at last night's event, they asked if mom had any relationship advice for her first-born daughter.

"Stay true to yourself; that's all you can really do," Rumer says.