Rufus Wainwright Returns To Carnegie Hall, Announces Opera In NYC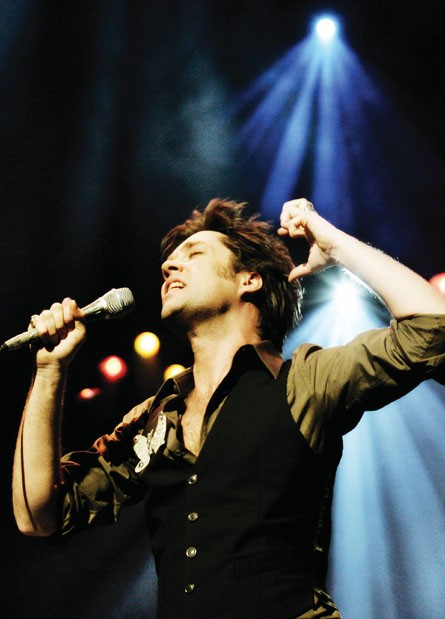 On December 6th at 8PM, Rufus Wainwright gave a concert at Carnegie Hall for the first time since his heralded tribute to Judy Garland's legendary 1961 comeback performance. That's over four years ago, but if anyone was worried that the master singer-songwriter wasn't ready to take over the space once more, their fears were unfounded. Through a highly emotional two-act performance, Wainwright proved yet again that all you really need--if you've got the talent--is a trademark killer voice and a good piano.

Okay, the incredible acoustics of Carnegie Hall don't hurt either.

The first act was a somber affair, the audience instructed beforehand not to applaud until Wainwright had left that stage, as his exit was part of the piece. He entered in a dramatic black number sporting a train around 15 feet long. The opener, a song bent on the simple demand that New York reveal its true identity, was a stunning mood setter, an ode that one can only hope to hear on every Manhattan DJ playlist long after the world has finally grown tired of Jay-Z and Alicia Keys' "Empire State of Mind" duet (if they aren't tired of it already).

The audience was being treated to a live cycle of his most recent album "All Days Are Nights: Songs for Lulu," what has been called Wainwright's most personal record to date by many critics. With three musically styled Shakespeare sonnets, a sampling from his opera and vivid snapshots from his own life, the hour-long set saw the audience sitting rapt and perfectly silent for each note. With eyes closed, it was easy to believe you were sitting right next to the grand piano.

It was clearly the section of the performance that Wainwright had been most concerned with, and he emerged after the intermission looking relaxed, pleased to know he could kick back for the remainder. He could barely get past the first two songs before announcing that a lifelong dream of his was about to become a reality: in 2012, his opera "Prima Donna", which has been playing across Europe and in Canada, will finally come to New York City. The enthusiastic hollers seemed evidence enough that no one in the theatre was planning on missing it.

Much of the second act was concerned with tributes; he played a song for his father sitting in the audience, a piece that he admitted was "harsh...but it has become a love song, and I'm glad that it is that way now." One more was dedicated to his fiance, directly after announcing their engagement to excited applause. He performed a piece penned by his mother, Kate McGarrigle, who passed away early in the year. His sister, Martha Wainwright, came on stage to sing with him twice, accompanied the second time by her infant son who was a complete angel throughout, eagerly taking in the grandiose setting as he rested on her hip.

Of course, Judy had to make a comeback, and Wainwright did not disappoint. Throughout the second act, audiences pleasers from the 2006 concert were dusted off and displayed alongside favorites of his own. Two encores later--the second because Wainwright insisted the concert end on a "happy note"--the audience departed, finally satisfied. They are probably currently counting the days in hope that they won't have to wait long for his return to New York.