Ruby Dee Dies At 91, Stars Pay Respect Online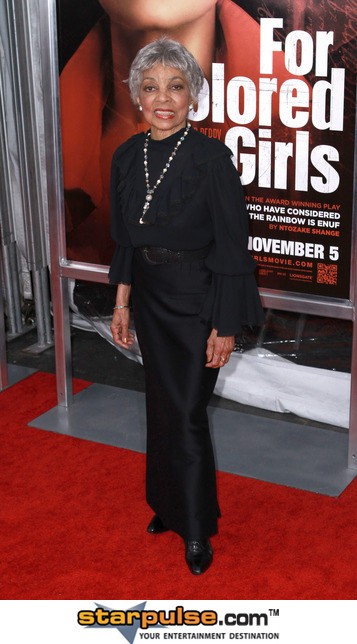 Legendary actress Ruby Dee died Wednesday at the age of 91 in New Rochelle, New York.
In a career that spanned 8 decades, Ruby earned a Grammy, Emmy, Screen Actors Guild Award, and Screen Actors Guild Lifetime Achievement Award, as well as an Oscar nomination.
Dee is probably best known for the film version of A Raisin in the Sun in 1961, but she attracted new audiences when she starred in Do the Right Thing in 1989, Jungle Fever in 1991, and American Gangster in 2007.
Dee became involved in the Civil Rights Movement in the 1960s with her husband Ossie Davis. Dee and Davis were at the""I Have A Dream" speech by Martin Luther King in Washington D.C. Davis delivered Malcolm X's eulogy, then said a tribute for King at a memorial a day after King was assassinated.
Dee helped pathed the way for black actresses in the 60s, becoming the first African-American woman to star in an American Shakespeare Festival production with her role in King Lear. Ruby would star in television and film for decades afterward. She received eight Emmy nominations (winning in 1991 for Decoration Day), and in 2007 she received an Oscar nomination for her role in American Gangster. You can read more about Ruby's life here.
Spike Lee, who directed Ruby in Do the Right Thing and Jungle Fever, wrote on Instagram, "People,I Just Found Out The Loss Of Spiritual Mother,The Late,Great Ruby Dee.I'm Crushed By This Bad News And I Know Ruby Has Already Been Embraced In A Warm Loving Hug From Her Life Partner Of 57 Years-Mr. Ossie Davis.It Has Been One Of My Great Blessings In Life To Work With Two Of The Finest ArtistAnd Activist-Ruby And Ossie Were In The Battlefields a With Paul Robeson,Malcolm X And Dr. Martin Luther King. Ruby And Ossie Served As A Living Example That One Could Be An Artist And A Activist Too,That One Could Be An Artist And Still Deal With What It Means To Be A Black Woman And A Black Man In These United States. God Bless You Ruby Dee. God Bless You Ossie Davis.The Both Of You Told Us "To Always Do The Right Thing. Spike Lee. Please Excuse All Typos."
Orlando Jones tweeted, "RIP #RubyDee. 1 of the greats of screen, stage & civil rights. She was truly an inspiration & will be sorely missed. Say hi to Ossie for us."
Questlove wrote, "man. such a powerful magnetic human being. goodbye Ruby Dee," and Russell Simmons added, "Words cannot express how much Ruby Dee inspired me to be who I am today. I will miss her dearly..."