Ruben Studdard Facing Another New Tax Bill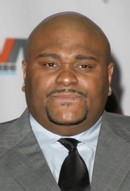 Singer Ruben Studdard has been hit with a new U.S. tax bill for outstanding debts from 2009.

The former American Idol champion and his estranged wife Surata Zuri McCants allegedly owe $180,216.73 in federal taxes to the Internal Revenue Service, according to TMZ.com.

It's the second time Studdard has faced tax trouble - he had a property lien filed against him in 2008 after failing to settle a $200,000 bill dating back to 2003.

He filed for divorce from McCants in November.