Royal Rumors – Palace Worried Duchess Might Become Known As 'Duchess Of Flashbridge' And More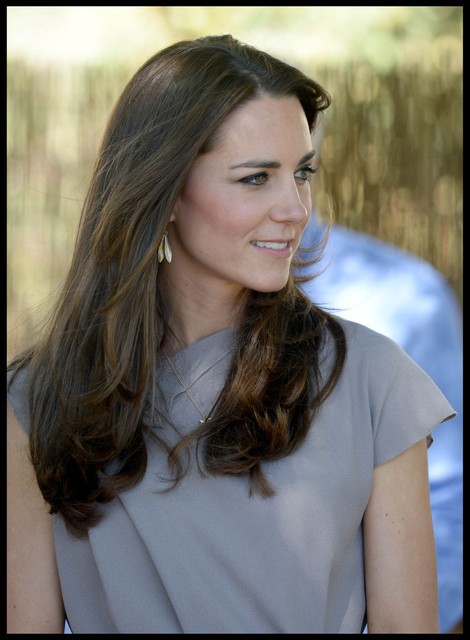 The courtiers of Buckingham Palace are up in arms over the recent endless headlines highlighting the series of endless wardrobe gaffes that the Duchess of Cambridge has indulged in and as Prince Harry's 30th birthday draws near, news that the Prince will be returning to Las Vegas to celebrate has caused many a courtier to worry about whether or not the Prince will be embroiled in fresh scandals! Questions are quietly being raised as to whether or not the Duchess can realistically continue royal life if she continues to fail to make appearances without the expectation that people will see a new wardrobe gaffe. Instead of waiting for Kate to arrive, it's likely to become a regular feature of stories involving upcoming royal visits that a gaffe might occur.
Just recently a photo of the Duchess' private parts has now circulated in newspapers around the world and it has reached the point of mockery. This has caused endless fresh humiliations for the scandal plagued Duchess, making her the butt of numerous jokes among the members of the press corps, among them Amanda Platell, a previously sympathetic columnist, but asked rhetorically "As a relatively seasoned member of the Royal Family, isn't it time she made more of an effort to cover up?" Among other insults, Kate has had to deal with the reality that the media is beginning to become slightly hostile and yet, the palace is unlikely to retaliate. German television presenter Kay Burley (who ironically waited for thirty hours outside a hospital waiting for Kate to arrive and give birth to he son Prince George) openly stated "Get yourself a six-pack of big pants, Kate'", causing her audience to laugh. Even the New York Post columnist Barbara Hoffman wrote, "Kate Middleton's bottom line is in the news. During a royal swing through Australia, a helicopter's breeze — and an enterprising paparazzo — gave new meaning to the phrase "Going Down Under," a phrase that is likely to haunt the Duchess for a long, long time.
It's a known fact that William and Kate have sued publications for printing photographs of the two, most notoriously right after the 2012 scandal when the Duchess was photographed full frontal, nude, on a private estate by a (still unknown) photographer. The photos were banned in Britain, but around the world the story made front pages, along with the Duchess' slim figure shown to readers around the world as well. This hasn't been the first time that a member of the royal family has been caught frolicking on estates, but this has been the first time that the wife of a future King has been photographed and fully nude. This has not helped the notoriously reclusive Duchess and will only continue to undermine her already long struggle to catch up to the amount of work that other working royals handle on a regular basis. Kate has already suffered the nickname "Duchess Doolittle" (a nickname that was applied to former Duchess of York Sarah "Fergie" Ferguson) and Kate is likely to be burdened with other new nicknames as time goes by.
Yet, this time around the circumstances have changed. The royal family was recently informed by their law firm that they have used in the past that the legal team that has done work on the royals' behalf would no longer be doing work for free. In the past lawyers have done work for free for the royal family, in exchange for the prestige of being known to serve the royal family and command larger fees from other potential clients; the Duke and Duchess have so often required their services for so many cases against various media outlets and newspapers that more frequently than not, lawyers have been neglecting paying clients. This has resulted in the firm becoming fed up and refusing to do any more work. Prince William and Duchess Kate have so often filed (in the eyes of most legal experts) pointless and frivolous lawsuits that it has monopolized the time of hard working legal teams and caused exhaustion.