Royal Roundup: Prince William and Duchess Kate New Zealand Tour & More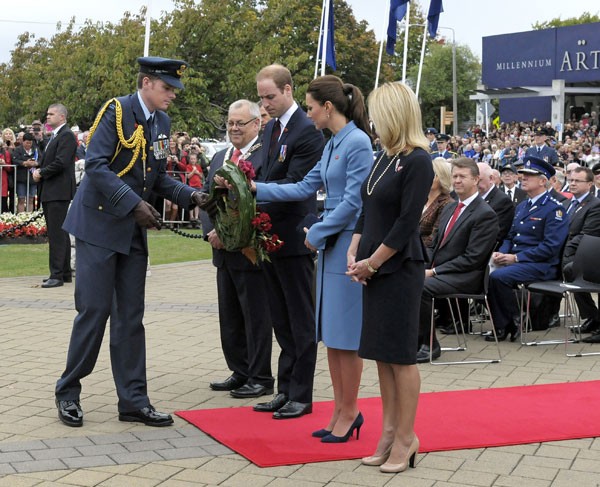 Guy Pelly friend of William and Harry is about to get engaged to heiress Elizabeth Wilson. The entire younger set of the British Royal Family will attend the service of the newly engaged couple in Memphis, Tennessee and Princess Beatrice, Princess Eugenie are on the list to attend and the social scene, with best friends Prince William and Prince Harry scheduled to be there for the future groom. Harry's long term girlfriend Cressida Bonas will be there (whether or not she'll be on Harry's arm is a subject for debate) and reportedly Guy did ask the princes to act as ushers.
Prince William and Duchess Kate Begin Tour of New Zealand With Up-skirt Gaffe
The Duchess of Cambridge has begun the state tour of New Zealand with an up skirt gaffe, showing her entire leg and a generous portion of her upper thigh! The Duchess is becoming infamous for these gaffes and delegates reportedly received an eyeful! The Duke and Duchess are working together to ensure continued goodwill between New Zealand and the Crown; this tour is considered vital and the rumblings of the people of New Zealand suggest that a native head of state is not far off. If New Zealand breaks away, then Australia will not be far behind.
Duchess Kate has a history of her skirts blowing up, (often up above her waist) and despite the forgiveness of the Queen, this is considered a vital tour and Duchess Kate reportedly had her wardrobe vetted. This will likely cause more tension for the style wayward royal duchess and because of the serious nature of the visit and the work that the couple is expected to do to keep things together, the Duchess has gotten things off to a humiliating start, undermining her already fragile reputation as a serious working royal. This new repeat of her now notorious gaffe, will likely earn the Queen's anger.
The New Zealand public is staying part of the Commonwealth out of respect for Queen Elizabeth II, but the Queen is determined to keep New Zealand as part of the Commonwealth for as long as possible, preferably permanently. If Duchess Kate continues to have gaffes or fail to live up to the expectations that have been placed on her (and by William as well), it could have serious repercussions. The Duke and Duchess are also debuting their firstborn son George and both are eager to endear him to the people of New Zealand.
The Queen is hopeful that when Prince George is King, New Zealand will still be part of the Crown.