'Royal Pains' Set Visit, Q&A & Season Two Spotlight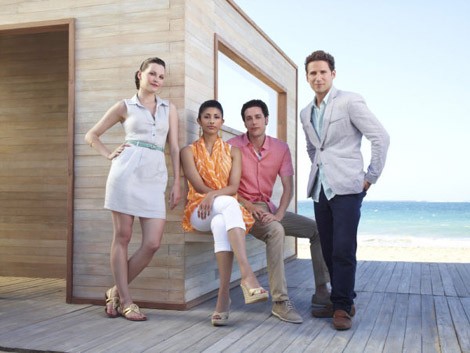 USA's famous tagline "Characters Welcome" means that it is a channel not only dedicated to entertaining audiences, but that the entertainment might be a little more quirky than most television. This is a welcome change from stations that churn out the same mind numbing procedurals year after year. With Monk, In Plain Sight, Psych, and Burn Notice, they've introduced amusing and memorable characters who come from popular genres (detective, spy, action) with a unique spin.
One of their newest successes is a show titled Royal Pains, a medical show set in the Hamptons that blends a little House-esque mystery case with a MacGyver style of treatment. The second season premieres tomorrow, and USA invited Starpulse.com to visit the set, speak with the actors, and get a sneak peak at what is coming up for the show.
Royal Pains is about Hank Lawson (Mark Feuerstein), a successful and moral New York City doctor who saved the life of a citizen over that of an important hospital board member. He lost his fiance, his reputation, and his work, and his brother Evan (Paulo Costanzo) persuades him to come to the Hamptons. While there, Hank saves a life and starts treating the occupants, becoming a doctor for the wealthy by word of mouth and making house calls. Evan becomes the accountant of HankMed, and a young woman named Divya (Reshma Shetty) insists on becoming Hank's Physician Assistant. Although he is reluctant at first, Hank begins to enjoy the area and feeling like he is needed again, and he gets attracted to a local doctor named Jill (Jill Flint).
At the end of the first season, Hank's business goes bankrupt because Evan lent their money to their deadbeat conman of a father, Eddie, who will be played by Henry Winkler. Divya plans to break off her arranged engagement to the man her parents picked for her, but she gives in instead. Jill tosses her ex-husband out. All of the characters are in a place where they need a renewal of sorts, so this is the perfect time to start a new season and go from there!
The journalists invited to the set got to interview the actors, the writers of the show, and then to watch a few scenes being filmed. The latter part was a personal favorite, because there is nothing quite like being on a television set and seeing how it happens live. The actors were all charming and friendly, coming up to the writers over the course of the day even outside of the interview process to say hi. The star Mark Feuerstein may be one of the genuinely nicest people out there, and he charmed the entire group with his energetic love for the show. Jill Flint was a touch on the shy side, but once she got talking about being born and bred in upstate New York, she warmed considerably and discussed her hopes for the future. Paulo Costanzo had a much more dry sense of humor than his goofy on-screen character, and proved that it sometimes takes a very serious actor to portray a silly, funny character like Evan. Reshma showed off an impressive rock on her finger and chuckled about everyone's interest in a possible future Evan/Divya hook up. Could that happen in the future? Creator Andrew Lenchewski and Executive Producer Michael Rauch were on hand to talk about that and their new guest stars for the upcoming season. Thank you to the transcribers at USA that helped get all the interview recordings perfect so you can read below.
Below are some questions directly asked from me to the actors to give you viewers an early look at season two. Don't forget to tune in tomorrow, June 3rd, at 10 PM EST on the USA Network for Royal Pains.
Chelsea Doyle: Is Eddie Lawson there for redemption or does he have his own purpose?  Is he there for his own reasons?
Andrew Lenchewski: That's a very good question and that's exactly the mystery that we're going to be playing through the character over the course of the season.  It may be one, it may be the other, it may be a mixture of the two, you know, things aren't always black and white in this world or in any other.  But that's part of the question that Hank has and he has a point of view and Evan, you know, has a different point of view and then that's what really plays to the tension between them.
Chelsea Doyle: There seems to be an interesting relationship with Evan and Divya there.  Is there anything romantic in nature going on?
Andrew Lenchewski:   If you have a video camera, a fight erupt between us right now.  This is one of the more, I think, divisive debates in the writer's room.  By divisive, I mean, everyone feels one way and I feel a totally different way.  I may be wrong and I may lose in the end, but for me, you know, that tension is so exciting and I think adds so much to their dynamic.  And as soon as you go to that point of no return, I feel like you lose that.  But on the other hand—

Michael Rauch:   But for the record, you're a virgin.  So you don't know what it's like so—

Andrew Lenchewski:    I have no basis for comparison.  But at the same time, you know, it feels like if we did go to that place, there'd be a lot of, you know, comedy to mine from that, but it's something we continue to debate vigorously.

Michael Rach:  They're so wonderful together and we are—we don't feel like we've run through that dynamic yet.  And I feel like once we start to feel like maybe we've run out of stuff to do with them as friends, then that might be an actual time to add something more.
Chelsea Doyle: The cool thing about Hank dealing with his father is that he normally keeps his cool really well
and he's always very calm. What do you think that says about the second season? Is he going to go a little off the rails?
Mark Feuerstein: I like that question because when I had the opportunity to sit with the writers of the show in LA before the writing for the season began, because we have such an open family here at Royal Pains, the executive producer, Michael Rauch, who's always looking for input from us and doesn't separate the divisions of labor, he brings everybody together, he said, "Is there anything you'd like to see in Season 2?" And the only thing I said is, "I know we're on USA, I know we're a blue skies show, but if there was a way to see Hank's Achilles heel, see a little more dirt under the fingernails, you know, mess him up a little and see the mess of his life and his psychology just a little more, as an actor and as a lover of the show and the characters, I'd love to see that." And enter Eddie R. Lawson, and that's perfect.
Chelsea Doyle: We were talking with the writers about that relationship between Jill and Marcia Gay Harden's character, and how it was a rivalry and a student-teacher relationship.  How did you feel about that with Marcia, that you looked up to her, kind of?
Jill Flint: Well, you know what's funny?  I look up to her as an actress.  I mean, are you kidding?  She's an Oscar winner, Tony winner.  So it's kind of—it's an easy thing to play.  And I like that idea.  I like—Jill Casey I feel is sort of young in her position.  You don't really see a lot of hospital administrators in their 30s.  And she plays this doctor, this head surgeon, who—she ultimately, she runs the hospital in her own way.  She's top of the game in what she does. So yeah, there's this admiration of her.  I look to her as an example of what I could be or should be and want to be.  And so when she sort of turns around against me, it's a little heartbreaking, but at the same time, I'm not ready to give up my position or back down because I do ultimately believe that I'm doing the right thing. And to explain that further, she comes after me because she thinks that there are problems in the hospital that have been created by my own irresponsibility.  That's her point of view.  But it's not—it's me just doing my job.  She's just not happy with what I'm doing.
Chelsea Doyle:    Where would you like to see Divya go from here in character development-wise?

Reshma Shetty:    I think it's where it's going. It's that she's not just this overly put together really smart girl. It's that there's a huge dimension to her that is her battle of becoming who she is. I think that's why she gets along with Hank so well. Hank never judges her. Hank is okay with her being whatever she wants to be. And I think that's the first person she's ever really met that is really okay with her wanting to be a PA, wanting to be a medical person. And that's where it's going, that you're going to see different sides of her and her relationship.
Chelsea Doyle:    With Eddie Lawson coming back, the relationship between Hank and Evan has changed somewhat.  How do you feel about it?  Especially with Evan talking about how he always asks about his brother, some sort of sibling rivalry there.  What do you think is the ahead for the two brothers?

Paulo Costanzo:    Already, yeah, it's kind of unlocked a different side of their relationship.  It's much more honest.  I don't know, the way that I see it is when they were back in Manhattan and he was a doctor and Evan was god knows what, being a quote-unquote "accountant" or hustling or whatever he was doing, not hustling on the street for sex, hustling for money and things like that, but for the first season, I think they were kind of really getting to know each other, because they hadn't lived together for a long time, and they had grown very much apart.  They're very different people.  And the father arriving in the first episodes of this season, just kind of—I think that's been broken and they're genuinely brothers again.  Which has been so much fun to play with as an actor, and just it's a pleasure because it's also, like, Mark and I are having way more fun on the set because there's not as much rivalry.  It's much more just kind of two brothers.  More love, too, and more depth.

Chelsea Doyle:    What about Evan's insecurity about his brother maybe being his dad's favorite?

Paulo Costanzo:    Yeah, that's part of it.  We haven't touched on that yet, but that exists, for sure.