Royal Pains Season 5 Preview: Brothers Re-Strengthen Bond As They Face New Threats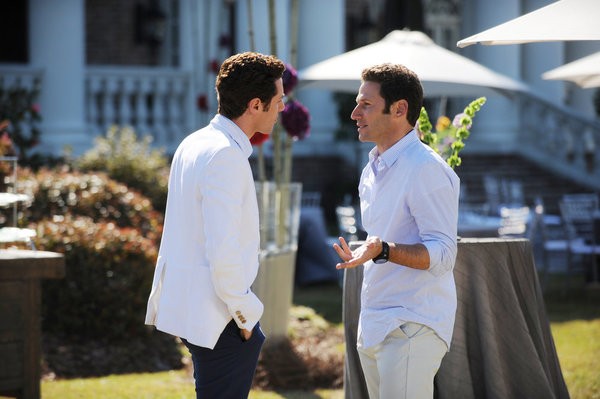 A great deal of season four of Royal Pains was about putting the brothers Lawson back together and after HankMed seemingly broke apart over Evan's desire to grow the company.
But at the beginning of season five, that brother relationship is stronger than ever even while HankMed continues to grow with its own, yes, Hankies. Six months after his neurosurgery, Hank is only now returning to work full-time – which may still be way too early if hints that Hank is not altogether with it just yet – and Evan had to hire quite a few new doctors to help out, especially with local emergency room shut down.
With a larger team, Hank, Evan and the rest of the team, however, are facing a lot of new threats this season. So many, in fact, that it may seem too much for the show to handle.
First, there's Dmitri, who we learn has yet another unexpected connection to Boris. While we the audience know Boris is not dead, Hank not only believes it, but he thinks Dmitri is responsible.
There's the awfully too nice benefactors behind Hamptons Heritage's hospital purchase. Especially when they make Hank and Evan an offer that you can't even imagine Hank would have accepted a few years ago. (But life-threatening neurosurgery probably gets you to think differently.)
And then there's Blythe Ballard, played by Frances Conroy, who doesn't think a business of HankMed's now size belongs anywhere near where she lives. (She's one of the boys' neighbors.)
Just as there's a multitude of external threats facing HankMed, there's a ton of angst amongst the various members. Jeremiah, now bearded, still harbors feelings for Divya who's got something way more serious on her mind these days. Plus, they're going to be taking a trip together, alone, later this season. And Paige wants to begin her life with Evan who is afraid to be more than two feet away from his brother.
It's a less exciting start to a season then in years past when we got to find out how new characters like Jeremiah and Paige were going to affect the group's overall chemistry. Instead, we may need a wait and see approach to see if any of the external threats bear interesting plotlines and developments later this season.
Royal Pains returns tonight at 9 pm ET on USA with its season premiere, "Hank Watch."