Royal Family Thrilled Over William & Kate's Baby News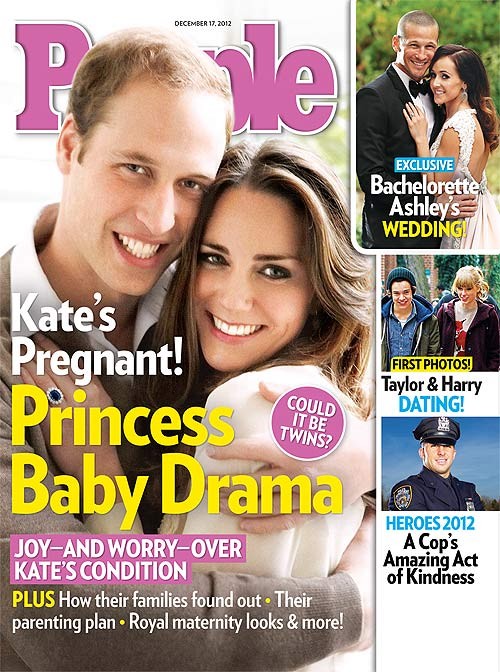 Move over, Harry. A royal heir (or heiress! Or both?) is on the way for Prince William and Kate. But the couple's joy is tinged with fear as the Princess rushes to the hospital and learns she faces days, if not months, of acute morning sickness. Is this a sign that she's in for a rough pregnancy? This week's issue of PEOPLE features a special 10-page report on the baby bliss (and drama) surrounding Kate's condition: How their families found out; their parenting plan; royal maternity looks, and more.

"There is real excitement," a royal source tells PEOPLE of the mood inside the palace. "We're really chuffed" – Brit-speak for giddy – "but obviously people are anxious about the duchess." Diagnosed with hyperemesis gravidarum (HG), an acute and rare form of morning sickness, the expectant princess was struggling to keep down food and fluids and was joined at her hospital bedside by her husband of a year and a half. Palace sources say William, 30, informed the Queen, his dad, Prince Charles, and his brother, Prince Harry – a British Army captain currently stationed in Afghanistan – before his wife, 30, was hospitalized, with friends only hearing the announcement when it went public. But don't expect the Queen to pay a bedside visit: "She doesn't normally go because it disrupts the running of the hospital," says the palace source. "The duchess just wants to recover and get out." If the dad-to-be was scared, he wasn't showing it. "He looked solemn, very calm and strong," an observer says of Will's exit from the hospital Dec. 3.

The pregnancy is still "in its very early stages," according to a statement from the palace – around nine weeks or so, according to some estimates, given that the ever-cautious princess likely would not have become pregnant until after the couple headed home from their tour of Asia on Sept. 20 and stopped taking their antimalarial medication.

The announcement was greeted with widespread pride and joy by family, friends, and fans alike. "This wonderful news tops off what's been quite a year for Britain, what with the Queen's Jubilee and the Olympics," William's uncle Earl Charles Spencer tells PEOPLE. "I'm delighted for them both and can't wait to meet Diana's grandchild." The Queen herself "is just so happy," says a palace source. Capping her grand Diamond Jubilee celebration, "it has been a brilliant year and this has rounded it off. It has been incredible." To be sure, not since Princess Diana was expecting Will three decades ago has an expected heir – boy or girl, the baby will be third in line to the throne behind Prince Charles and Prince William – set off such global excitement. "It's terrific news," says a close family friend.

Regarding being hospitalized with HG, "I am sure Kate will cope with the challenge just as she has handled everything she has faced since becoming a duchess – with dignity, strength, and courage," says fashion blogger Nikki Pennie, a longtime friend of the duchess and her sister Pippa. "She's a very maternal person."

While the world awaits the debut of the newest heir to the British throne, no one is more eager to meet the new arrival than the proud – and nervous – first-time royal parents. "[Knowing] they love and respect each other," says Ken Wharfe, who served as Princess Diana's bodyguard throughout Prince William's early years, "there's no reason to think they will be anything but good parents."

*Also In This Week's 'People'*
Exclusive! Bachelorette Wedding Details: "their Love …Is Going To Be Forever"
Alicia Keys On Meeting Aretha Franklin: "i Was Totally Freaking Starstruck"
Randi Zuckerberg: "i'm Trying To Create My Own Path"
Damian Lewis: "at The Moment, I'm The Luckiest Man In The Room"