Rosie Huntington-Whiteley Spotted With Engagement Ring At Coachella? (Pics)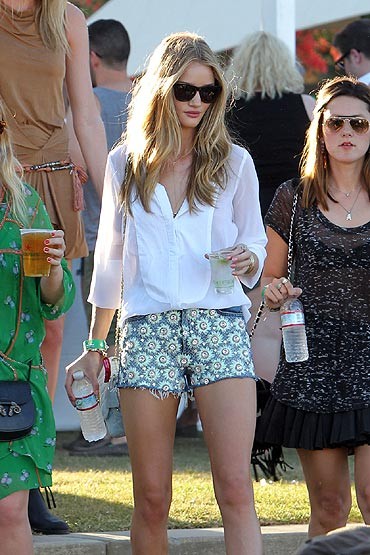 Rosie Huntington-Whiteley was spotted at the Coachella Valley Music and Arts Festival Friday wearing a band on the ring finger of her left hand - reigniting rumors that she and longtime boyfriend Jason Statham have gotten engaged.

The sexy supermodel showed off her long legs in a pair of cut-off short-shorts and an unbottoned see-through top, exposing her tan bra.

Jason, 44, and Rosie, 25, went public with their relationship at last year's Coachella festival, but this year Rosie's going it alone, attending the second weekend of the festival with some close friends.

Britney Spears' ex-boyfriend, photographer Adnan Ghalib, was spotted at the festival with Rosie by Pacific Coast News; and the paparazzo was reportedly trying to make a move on the model. Jason's probably not going to like that too much. See more pics after Rosie's ring...