Rose McGowan Wants Her Dream Home Back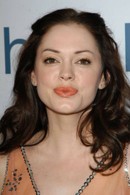 Rose McGowan is begging Paul McCartney's manager to sell her back her home after realizing the awful allergies she experienced while she lived there were caused by her expensive pillows.

The Conan the Barbarian star sold her dream Hollywood home earlier this year after convincing herself she'd never be happy there, but, after moving into a new place and discovering she's still suffering from swollen eyes and breathing difficulties, she has learned she's allergic to fine feathers.

The regretful star says, "My eyes kept swelling up there. I spent about $17,000 overhauling the duct system, putting allergy crap (on). Everyday I was staying at hotels because my eyes were, like, swollen like I got stung by a bee.

"I went to the new house, which I loathe... because I had to go somewhere, because I couldn't take it anymore, and it happened again... (It turns out) I'm allergic to down."

McGowan reveals she returned to her old home upon learning what the root of her health problems was - and sobbed in the driveway.

She adds, "I tried to see if the guy would sell me my house back, but he won't."

And she made a personal plea to the new owner during an appearance on late night chat show Chelsea Lately on Tuesday, stating, "You're Paul McCartney's manager... Go away, give me my house back!'"