Rose McGowan Seeking A Cure For Pulmonary Fibrosis Following Father's Death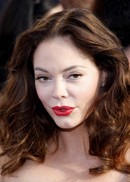 Actress Rose McGowan is spearheading a new awareness campaign about Pulmonary Fibrosis after losing her father to the deadly lung disease.

The Grindhouse star's dad, artist Daniel McGowan, lost his battle with the illness two years ago  and now the actress is helping to give patients and their family members a voice as the Coalition for Pulmonary Fibrosis' (CPF) new ambassador.

In a post on her Facebook.com page on Friday, McGowan confirms her new role, writing "My life was unalterably changed the day my father was diagnosed with Pulmonary Fibrosis (PF). He was my touchstone in life and once I realized that he was suffering from a disease that was 100% fatal, I found myself feeling utterly helpless and broken-hearted."

"It has taken me a great deal of time to begin to heal and I still shed tears at the most unexpected moments. He was taken at what seems to me a fairly young age of 61 - my heart was not ready to let him go."

"I am now in the fight to stop this horrible disease because you can't change anything by bemoaning your fate or sitting on the sidelines. After dealing with this tough loss, I have determined that my course needs to be one of helping to stop the disease - my loss can be turned into a win for all those diagnosed with PF in the future... My decision to help the CPF in their work to stop PF is my way of keeping my dad's legacy alive and making a contribution to the world in his name."

"There are many causes that are better known, but watching the inexorable destruction that PF wreaks on the patient and their family and friends has convinced me of the urgency of this work. We are losing as many patients as breast cancer, but the investment in research for PF is minimal - it's time for a change."