Rosanne Cash Pays Tribute To Father Johnny's Longtime Collaborator Marshall Grant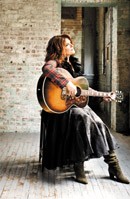 Johnny Cash's longtime collaborator Marshall Grant has died, days after paying tribute to the late country icon at a family festival.

The musician, a member of Cash's original backing band, passed away on Sunday at the age of 83.

He had been in Jonesboro, Arkansas following last Thursday's Johnny Cash Festival, where the legend's children, siblings and pals hit the stage to perform in honor of the star.

Johnny's daughter, Rosanne Cash, has led the tributes to Grant and in a series of posts on Twitter.com. She writes, "Grateful I was w/him last 2 days. Boom Chicka Boom, old friend... He was my 'back-up dad'. Lot of bass players owe him a debt."

Grant formed The Tennessee Two with his pal Luther Perkins and they played with Cash from 1954 to 1980.

He went on to retire and spent his last few years on his ranch near Hernando, Mississippi.