Roots Drummer Questlove Opens Hoodie Store A Day Before Trayvon Martin Protest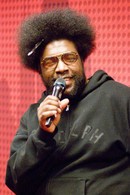 Hip-hop star Ahmir '?uestlove' Thompson has become a partner in a new fashion company specializing in hooded clothing.

The Roots drummer has teamed up with entrepreneur Peter Shapiro to open the Hoodie Shop in New York and the Grammy-winning musician admits he's always had a passion for the casual sweatshirts.

He tells NYmag.com, "I have a love affair with hoodies that goes way back. When Tariq (Trotter, bandmate) and I first saw the Tribe Called Quest video for 'Can I Kick It?' and they were all wearing hoodies, I was like, 'Yo, we gotta go to the Gap (retail store) and get that.' That's when I purchased my first bona fide hoodie."

The pair launched the Manhattan store last week, the day before thousands of protestors took to the streets of the Big Apple for the Million Hoodie March to demand justice for African-American teen Trayvon Martin, who was shot dead by neighborhood watch volunteer George Zimmerman in Florida in February.

Zimmerman had told police he thought Martin looked "suspicious" because he was wearing a hoodie, but Thompson insists the timing of his business launch and the protest march was just a coincidence and they were never seeking to cash in on the youngster's tragic death.

He adds, "I texted Pete and said how ironic is it that we're going into this Hoodie Shop venture now, with what's happened. I was like, 'How we gonna handle this, because I don't want people to think we're jumping on the hoodie bandwagon.'"

Zimmerman, who claims he was acting in self-defense, has not been arrested over Martin's death and the controversy has sparked outrage across the U.S.