Rooney Mara Softens Her Look At New York 'Dragon Tattoo' Premiere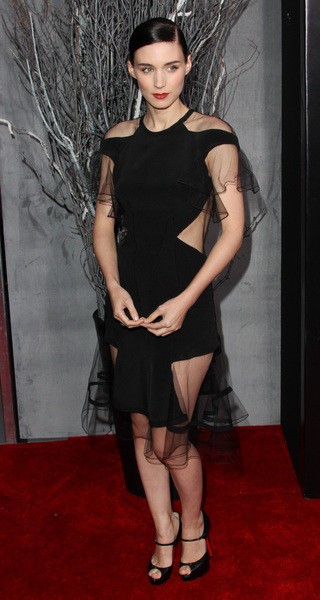 Rooney Mara attended the "The Girl with the Dragon Tattoo" New York City premiere last night in a wispy black dress with her blunt bangs nowhere in sight. We think she looks sophisticated and less edgy than she did earlier this week at the world premiere in London.
The actress recently opened up about an embarrassing role she played on "Law & Order: Special Victims Unit" in 2006.
She told Allure magazine, "It was so awful. So stupid. Me and my boyfriend - although I (didn't) look old enough to have a boyfriend - went and beat up these fat people, and at the end of the show you find out that I used to be obese and I hate fat people. It's ridiculous. Who would ever do that? Who would beat someone up because they're fat?"
"The Girl With The Dragon Tattoo" opens in theaters Dec. 21.
Check out more photos of Rooney and co-star Daniel Craig on the following pages: