Rooney Mara Discusses Her Drastic Transformation For 'The Girl With The Dragon Tattoo'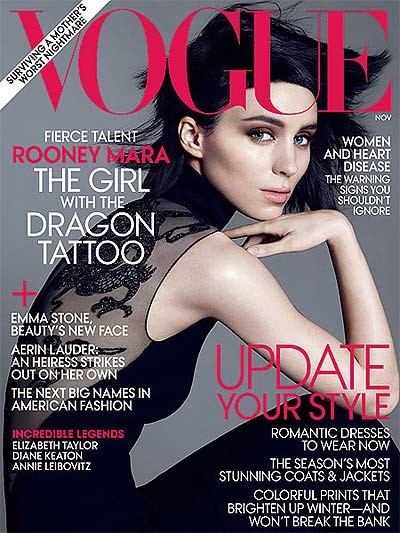 With only a handful of feature films behind her, including David Fincher's Facebook tale The Social Network and 2010's reboot of A Nightmare on Elm Street, up-and-coming Actress Rooney Mara is about to become a household name in The Girl With the Dragon Tattoo.

Based on the book by the late Stieg Larsson - and a remake itself - Dragon Tattoo stars Mara as title character Lisbeth Salander, a heavily tattooed & pierced computer hacker who helps journalist Mikael Blomkvist (Daniel Craig) in his search for a woman missing for 40 years.

But in her new November Vogue magazine photoshoot Mara shows off her more feminine side.

"Before [Dragon Tattoo], I dressed much girlier," she tells the magazine. "A lot of blush-colored things. Now I literally roll out of bed and put on whatever is there. I have really enjoyed being a boy this last year."

Rooney also reveals the drastic transformation she was given by makeup artist Pat McGrath, costume designer Trish Summerville and hairstylist Danilo to get into the character of Lisbeth.

She says Danilo "cut my hair, shaved the sides, bleached the eyebrows, then dyed my hair black. Then we went and did the piercings—all in one day."

Yes, several of the piercings her character has in the film she really did to help add authenticity to the role. In fact, an explicit version of the film's poster - which appears to show Rooney's bare breasts - recently leaked onto the internet.

"There's a certain way people are used to seeing nude women, and that's in a submissive, coy pose, not looking at the camera," she tells Vogue; "And in this poster, I'm looking dead into the camera with no expression on my face.

"I think it freaks a lot of people out."

The Girl With The Dragon Tattoo hits theaters December 21st.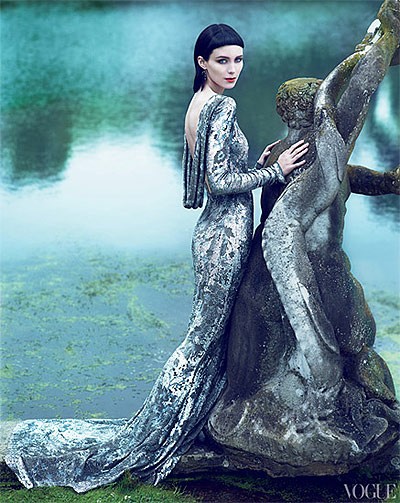 Watch the trailer for The Girl With The Dragon Tattoo: