Room 205 Presents Off! - 'Compared To What?' (Video)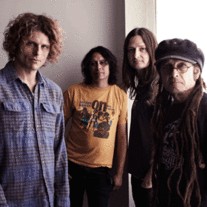 The four members of OFF! come from an array of truly awe-inspiring bands. Keith Morris (Black Flag/Circle Jerks), Dimitri Coats (Burning Brides), Steven McDonald (Redd Kross), and Mario Rubalcaba (Earthless/Hot Snakes/Rocket From the Crypt). Formed in Los Angeles in 2010, they've already released four EPs of classic hardcore and logged more road miles than most bands will in their entire existence. The individual roots established by these lifelong musicians are uniquely woven throughout the rock music canon. To call OFF! a supergroup just isn't super enough.

Look for the second and third installments of OFF!'s Room 205 episode to launch August 8th and 15th respectively.