Room 205 Presents: Blouse - 'They Always Fly Away'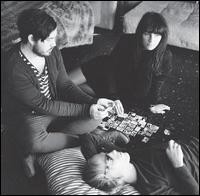 Incase is proud to welcome Blouse to Room 205. In this episode, director Paul Stec and audio engineer J. Clark guide us on a woozy shoegaze through the gauzy, interstitial dreamworld of Blouse.

Blouse started in the summer of 2010 after Los Angeles native Charlie Hilton met Patrick Adams in art school. Based out of a warehouse in Portland, OR, they began spending nights recording with Jacob Portrait (also of UMO). After posting two demo tracks to Bandcamp, the group released the 7" single "Into Black" on Captured Tracks in March 2011, soon followed by "Shadow" on Sub Pop. Their self-titled debut LP was released by Captured Tracks in November 2011. Drummer Paul Roper and keyboardist Misty Marie currently round out the live band as Blouse embarks on its first whirlwind tours of Europe and the US.

Unbound from the corporeal constraints of Room 205's 15 x 20-foot landscape, this very special episode of Room 205 offers a near-perfect flux of ethereal pop, live performance and poetic imagination.