'Rookie Blue's' Charlotte Sullivan Dishes On Gail's Evolution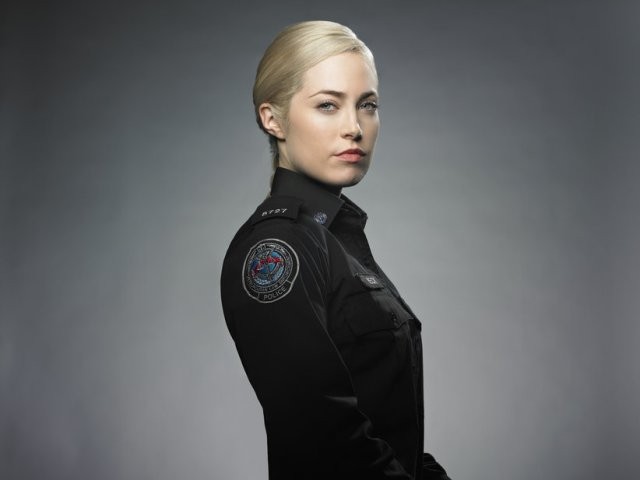 Gail Peck has been through a lot in Season 4 of Rookie Blue, both from her own making and not, and it isn't going to get any easier for her with tonight's episode. Charlotte Sullivan connected with me on Tuesday to talk about "Under Fire," which has the cops of 15 Division in the crosshairs, and Gail's various romantic relationships.
"Under Fire" is the last episode before the season finale, and it's a whopper. There's also a lot more going on in it than just bullets flying. "First and foremost, our friend Gregory Smith, he directed this episode, which is really kind of special," Charlotte told us, also highlighting Gail's newfound bond with medical examiner Holly (Aliyah O'Brien).
"In terms of my character, I had a thought about who my character might be in terms of questioning her sexuality after season one, and had talked to the writers about it, and they're sort of discovering a new part of Gail. It's a sort of interesting new layer to play of this woman. We are not defining it, we don't know [what it is], and it's a discovery."
Gail's interactions with Holly have also prompted us to take a different look at Gail as an individual; she's easily the most blunt and most abrasive of the officers at 15 Division, which means she's not always the fan favorite. What's that like for an actor to deal with?
"The first season, I don't have Twitter or Facebook or any of that stuff, and I was kind of looking and found some stuff I didn't quite like," Charlotte revealed. "And then, you know, the beauty of playing an unlikable character is the bar is set so low. It's a more interesting angle to play. Trying to be liked all the time is exhausting. Part of me wants to be more like her, because I actually do think she cares a lot, she just doesn't show it.
"I think Gail has so many different layers," she continued, "and I think what's so interesting about this Holly relationship is we're getting to see a more let-down, silly and awkward and playful [version], because Holly is in fact really cool, and Aliyah is actually really cool in real life. In real life, I'm awkward around her. I get to play those things and use them! Gail's so much fun."
Whatever happens with Holly, Charlotte told us that Gail's ex-boyfriend Chris Diaz is officially out of luck. Responding to Travis Milne's idea that the two might still be good together, she gave us an emphatic, "No. I'm like 'Travis, get over it.' Travis really wants to make this happen. My answer's no."
Besides, Gail has enough to deal with, as she's just found out that best friend Andy McNally is dating her ex-boyfriend Nick Collins. We asked Charlotte to weigh in on the relationship drama that's been a major part of this season of Rookie Blue. "Certainly me as Charlotte thinks you don't ever break that trust and you don't ever be with a friend's ex-boyfriend," she said. "That creates a really interesting tension between Andy and Gail. I think Gail actually really likes Andy and really looks up to her."
And that storyline may go on for awhile, as she revealed that in these final two episodes, "It's really intense and it leaves a cliffhanger. It leaves room for Season 5. It leaves room for these awkward interactions to happen. It'll be really, really awkward." Wonder what that will mean for Gail, Nick and Andy - to say nothing of Andy's ex Sam Swarek, who we know still has feelings for her, and his girlfriend Marlo Cruz?
But before we get too ahead of ourselves, it's worth appreciating this underrated show with a great cast - and Charlotte takes time out of our interview to appreciate the audience. While you won't see her on social media with her co-stars - "I don't think I'll be on Twitter anytime soon," she told us - she wants the fans to know she loves them. "I'm completely gobsmacked by the Rookie Blue fans," she said. "Thank you for supporting us. You guys are beautiful creatures and I'm really quite grateful."
If you want to pay the love forward, Charlotte suggests that you check out UNICEF. "UNICEF is a beautiful organization that I am so proud to get to endorse," she added. Charlotte is a lovely person with a wonderful heart, and we think Gail would approve.
Rookie Blue is all new tonight at 10 PM ET/PT on ABC.
(c)2013 Brittany Frederick. Appears at Starpulse with permission. All rights reserved. No reproduction permitted. Visit my official website and follow me on Twitter at @tvbrittanyf.