'Rookie Blue': What We Want To See For Each Character In Season 6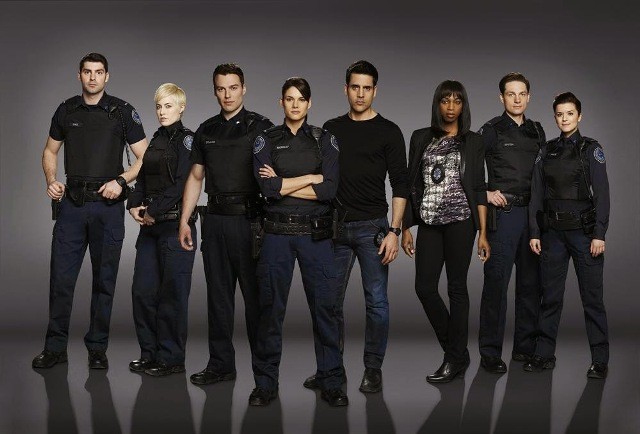 Tonight, ABC wraps up the fifth season of Rookie Blue by giving us the final two episodes back-to-back. While there's no word yet on whether 15 Division will get a season six, we're hoping it will - and so we're making a wish list of what we'd like to see for each of the show's main characters in the future. Read our thoughts below, and leave yours in the comments, then stay tuned for our recap and review of the finale.
(SPOILER ALERT - This article contains spoilers for the current season of Rookie Blue. Please note that we're making these predictions before having seen tonight's episodes, so Canadian viewers, cut us some slack if our requests don't jibe with what's about to happen.)
Andy McNally: Getting through the season without breaking up with Sam, since we know they're meant to be together. Also, a little extra dose of maturity, now that she's learned that being on the job for a few years is not automatic qualification for training a rookie. Andy still has a lot of her own growing up left to do, and after six seasons, it's time for her to do it.
Sam Swarek: A vacation. Presumably with Andy, but really, he just needs some time off. After getting shot, having to deal with his father (and the implication that he lied to put his dad back behind bars), and getting back together with Andy for the umpteenth time, Sam has had a drama-filled season despite not being used as much as in past cycles. Send this guy somewhere nice and let him relax. Possibly Costa Rica.
Traci Nash: It's time for a new professional challenge for Traci, who's been a detective for a few seasons now. Since her main plot this season was personal - the custody battle over her son - it's the perfect time to return the focus to her professional life. Let her be the lead on a big case and do some serious detective work, showing that she really has earned that position. (And off-camera, someone should let Enuka Okuma do some writing, because the webisode she wrote and directed this season? Impressive.)
Gail Peck: Anything that doesn't have to do with her sexuality. We get it, Gail's identifying as a lesbian. But her relationship with Holly is over, and her romantic life is just one part of who Gail is. Her making pithy comments to every other person is not character development. Let's dig into her a bit more, maybe have some fun with the fact that now her brother is around more and dating one of her friends.
Nick Collins: A love interest that won't dump him. Preferably one outside 15 Division. He was engaged to Gail and we still can't quite understand why, and honestly, he got short shrift when the show hooked him up with Andy. It's easy to see why the ladies have fallen for him, because he seems like a genuinely good guy. So doesn't he deserve to be happy?
Dov Epstein: Some respect. Dov's been walked all over by the two people closest to him this season. He's got a roommate that lied about his drug problem, and a girlfriend who, despite her constant need for his attention, is still kissing her ex-husband. He deserves so much better, and honestly it's baffling how he takes all this with very little complaint. It's time for him to stop being there for everyone else and look out for himself awhile. (Also, we'd like to request that Gregory Smith direct more episodes, because we love when he directs.)
Chloe Price: A divorce. A final, complete, absolutely certain divorce. It's ridiculous that the show wants us to invest in Chloe and Dov, and Chloe wants Dov to invest in Chloe and Dov, but she still can't seem to drop the husband that came out of nowhere. We know Cle Bennett was awesome on Flashpoint, but this is getting out of hand. Chloe needs to make up her mind and commit to one man - presumably the one who's a regular on the show, for obvious reasons - so we can all move on already.
Chris Diaz: It goes without saying that what we want for Chris is recovery, likely followed by some therapy. He needs to kick his drug habit or he'd be out of a job. More importantly, the show should dig into why he became an addict and did so pretty quickly (considering the fifth season premiere began where the fourth season finale left off). We got a hint in a previous episode that he's still torn up about the son that turned out not to be his - that's a start. But Chris has to address the problems that led him to turn to drugs if he ever really wants a fresh start.
Steve Peck: Character development not related to Traci or Gail. Adam MacDonald is amazing, and we're glad he's here full-time now. But so far, most of what we know about Steve is that he's Traci's boyfriend and Gail's brother. He deserves some stuff that's about him. What makes him tick? What choices will he make under pressure? What does he ultimately want? It's time to find out more about him. On another note, we still miss Luke Callaghan. (Unfortunately, Eric Johnson is now on The Knick, so we're going to keep missing him, too.)
Oliver Shaw: Something that's not behind a desk. Ever since he replaced Frank (sniff) as the boss of 15 Division, the brunt of Oliver's storyline this season has been about him being Staff Sergeant, ordering people around and making administrative calls. That's great, because it's what would happen with a promotion like that. But let's not turn Matt Gordon into that boss type like you see on the Law & Orders, just giving the exposition and not much else. He's too good and he's spent too much time on the show to turn into a talking head.
The Rookie Blue season concludes with two back-to-back episodes beginning at 9 PM ET/PT tonight on ABC.