'Rookie Blue': Travis Milne Talks Diaz's Family Drama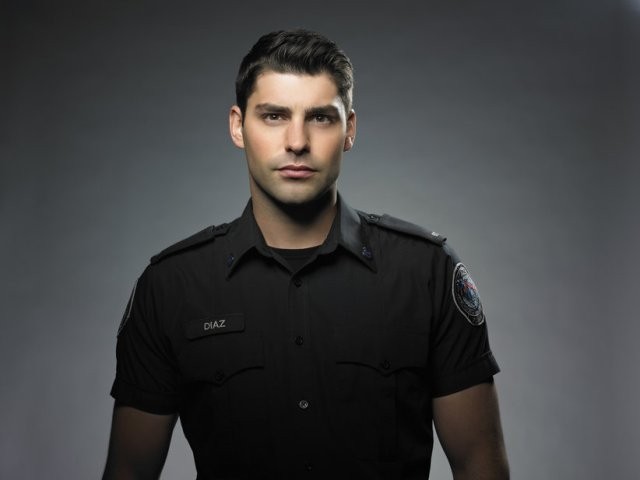 Season four of Rookie Blue has been an interesting one for Travis Milne, who plays the lovable Chris Diaz. As if watching his ex-girlfriend hook back up with her former flame and then discovering he had a son wasn't enough, this year Chris's struggles to be a good parent have led him to leave his beloved 15 Division. But the fans who are already upset over his absence can breathe at least a little easier: Travis is back for tonight's episode, "What I Lost." He sat down Tuesday with BFTV to chat about the episode, and what it's been like for him as an actor to deal with all these curveballs.
When he was originally pitched the storyline of Chris departing, the actor was worried that he was being written out of the show. "That was definitely the initial reaction," he confided. "[Showrunner] Tassie [Cameron] called me one night. My phone starts ringing, I have no idea whose number it is. I'm like 'Either this is really, really awesome or really, really bad.' She's like 'We've been toying with this whole you being transferred thing.' Because every show basically toys with it and it never happens. There's always this impending kind of stress to keep viewers watching, but it's never really implemented.
"It was [executive producer] David [Wellington] who was kind of all for it," he continued. "He said, let's do it. If we're going to shoot somebody, don't let them get saved in the hospital. That's what happens in real life. And if this guy wants to leave, let him leave. I was kind of excited about it after the nervousness left. It was going to allow Chris this transformation. A lot of characters have gone through a lot of heavy things. Enuka [Okuma, who plays Traci Nash], in Season 3, made a huge transition. It's Chris's turn to go through that."
In "What I Lost," Chris's personal and professional lives slam together after his son Christian is kidnapped while in the care of former coworkers Andy McNally (Missy Peregrym) and Nick Collins (Peter Mooney). Travis didn't quite see that coming. "It kind of caught me by surprise," he said. "I think everybody kind of knew there was going to be a twist. You don't introduce something like this and not have a kickback in some form. I didn't know what it was going to be.
"The thing I really enjoy about Chris's struggle, it's very authentic, and very true to where I grew up and where I come from," he continued. "It's really a small-town guy with a young family. A good guy who's trying to do all the right things, but these problems keep kind of jumping in the way of it. Christian getting kidnapped is just the tip of the iceberg."
If that doesn't sound ominous enough, wait until you hear Travis tease some favorite scenes from the episode. "There's a scene where I'm about to kill Andy and Nick," he explained. "I'm like a half foot taller than the rest of the cast. The only one that's the same height as me is Eric Johnson (Luke Callaghan). I had one hand for each neck. We did it in one take. They were like 'That's really freaky, let's move on.' I've got to say, though, of all of it, there's a scene with a chair. It won't be hard to miss."
Chris isn't the only one having some personal turmoil, though. His ex-girlfriend Gail Peck (Charlotte Sullivan) just found herself dumped by Nick, and has been seen flirting with the new forensic pathologist. Knowing that, we asked Travis if he'd like to see Gail and Chris reunite.
"I still kind of argue, even with Charlotte, off set, that Chris and Gail are soulmates," he admitted. "I'm still kind of thinking that they are really good together and destined to be with each other. On set, I don't know. I think the writers have something else in mind. [But] I always thought that was a really good setup.
"She's great. And I think Chris now is getting to a point where he's kind of got a no-bullshit policy and I think that's important with Gail. I think Chris is going to be less reserved about standing up to Gail. I think Chris and Gail would be really good together now but I don't know if it's going to happen."
Then there's another longstanding question: given that these cops have been on the job for four seasons and will be for at least one more, does he think it's time to stop calling the show Rookie Blue? "Not really," he said. "I think the show title still really applies, even if it goes on. The large thesis of the show will always remain that they're not afraid to let the characters in the show make these large mistakes that they have to overcome. Because that's what life is. It's not CSI. It's never CSI. It's not like that in real life."
However Chris's life unfolds, he's certainly been a welcome face at 15 Division, and Travis has been a wonderful part of the Rookie Blue ensemble. We'll keep our fingers crossed that everything works out for Chris.
Rookie Blue is all new tonight at 10 PM ET/PT on ABC.
(c)2013 Brittany Frederick. Appears at Starpulse with permission. All rights reserved. No reproduction permitted. Visit my official website and follow me on Twitter at @tvbrittanyf.