'Rookie Blue' Recap: Marlo's Troubled, Luke's Back, Traci Moves On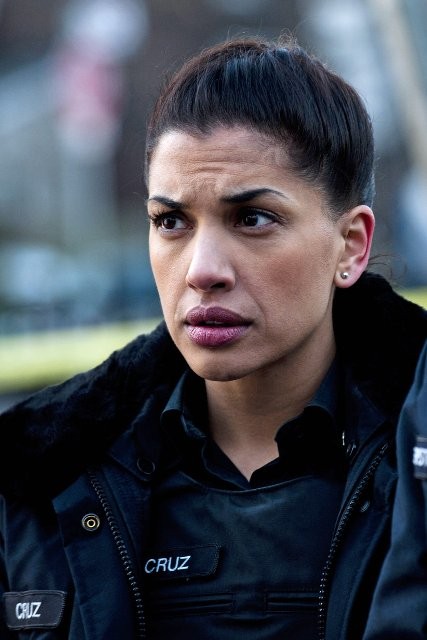 We've only got three more episodes of Rookie Blue this season (don't worry, it's coming back next year!), so it's time to amp up the drama. Most importantly, it's time for us to get to know a character we've sort of overlooked for the last couple of weeks, even if it's as the show is putting the screws to her.
If you were wondering where Marlo was last week, she's been keeping an eye on Kevin Ford, one of the suspects from "You Are Here" (that's Flashpoint alum Michael Cram, looking totally suspicious). He catches her sneaking around his house, at which point they have a huge argument.
Meanwhile, Nick is passed out until Andy tries to kick him out of bed; she asks him what time he got in last night, so clearly they've settled into couplehood rather quickly. The best they can agree on, though, is that they "don't totally hate it." Elsewhere, Diaz is teasing Gail and Dov about their lack of sleep, before he declares that he's happy to be back. We're happy to have you back, Chris. Even if you think Russian cocktails sound like a good idea.
At the morning meeting, we find out that everyone's sleep-deprived because they're working with Sam (who does not care how tired they are) and Traci on a major drug operation. Oliver asks Sam where Marlo is, which makes him call his girlfriend, who doesn't answer her phone as she's in the parking lot of 15 Division going over city records. Andy discovers what Marlo is up to, listens as she sets a new words per minute record, and suggests that she take it easy. But that's not going to happen, because the only thing we know Marlo has to do is finish painting her bedroom, and then we'd literally be watching paint dry.
(Although, she could team up with Diaz - since we know Travis Milne used to co-host a CTV series about houses - and they could have their own home improvement show. It'd be better than This Old House. I sense a spinoff.)
Andy's riding with Oliver today, and they're called to a possible assault...at Kevin Ford's house. Kevin Ford is beaten up on the floor of his living room. This is bad, but also, it's kind of awesome because it means the return of the fantabulous Eric Johnson as Luke Callaghan, now that he's done voicing Sam Fisher in the new video game Splinter Cell: Blacklist. When Luke sends Andy to canvass the neighborhood, she gets a description from one of Ford's neighbors that sounds a lot like Marlo. This prompts her to call Sam and spill the beans.