'Rookie Blue' Recap: Family Issues and Is Nick Falling For Andy?

Our heroes of Rookie Blue think they're going on a camping trip like normal people this week (except for Chris, who begs off at the last minute, and Chloe, who wasn't invited but shows up anyway). However, since drama for an hour has to come from somewhere, things go sideways on the last shift before their vacation.
Sam needs some help with the murder of a 16-year-old, and gets awkward wardrobe compliments from Andy, who still doesn't know how to act around him. Meanwhile, Dov has doubts about Marlo's fitness for duty despite the fact that the shooting from last episode was apparently two weeks ago. And Oliver assigns everyone else to the hunt for the murder suspect's car, during which Andy and Gail get involved in a pursuit with another vehicle that ends with them finding a teenager in its trunk.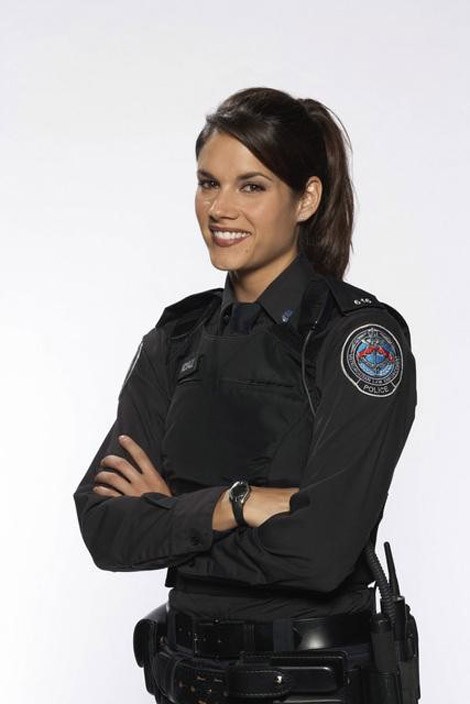 "This was just a prank," the kid - named Alex - insists, but they're skeptical and decide to take him back to 15 Division. Yet when he develops a nosebleed in the back of the squad car, Gail detours to the nearest hospital. In the waiting room, Andy cringes when she encounters Sam's ex-girlfriend Monica, who wants to ask how Sam is doing. Even Alex advises Andy that she doesn't have to be there. When the teenager who doesn't even know you picks up on the uncomfortable feeling, you know that things are majorly awkward. But to make things stranger, Monica drops a bombshell soon after: Alex is actually a girl. Enter Traci, who sends Andy and Gail off to start looking for the guy who stuffed Alex in the trunk.
Back on the streets, Oliver and Diaz spot the murder suspect, and take him into custody. This means we get another great Sam Swarek interrogation scene, where he gets the suspect, Cesar Medina, to admit that the victim's his cousin Richie, and Sam deduces from there that the bullet was actually meant for Cesar. It's not a far leap to deduce that this is gang-related. Afterward, Chloe is still annoying.
Andy and Gail track down the driver of the car, Teddy, and Andy trips him up with a plastic lawn chair in the backyard before they start questioning both him and his sister Dawn, who tearfully explains that Teddy caught her with Alex and decided to stuff him in the trunk. An enraged Teddy claims that he was "just protecting my sister," but Gail decides to arrest him for assault and kidnapping anyway, which he promptly blames on Dawn. Real brotherly love, that.
While Diaz admits to Oliver that he backed out of the camping trip because he didn't want his friends to see how his relationship with the mother of his son is falling apart, the two of them visit Bishop, the guy who might have been aiming for Cesar but hit Richie instead. Bishop suggests that it was Cesar's "own guys" that were after him. This information gets back to Sam, who gets Cesar to admit that he's an ex-gang member, and suggests that he ought not to throw away all of his progress since just to avenge his fallen family member.
Nick hands Sam a printout of text messages from Cesar's cousin Richie, which Sam promptly reads to Cesar. They prove that Richie was setting him up. Cesar was the target of Richie's gang initiation. Cesar doesn't want to believe it, but slowly he puts the pieces together with Sam's help. "I know you want to take care of these guys. I get that, believe me," Sam says. "But your cousin made his choice." Cesar needs a moment, or maybe a few moments.