'Rookie Blue' Recap And Review: 'All By Her Selfie' - Andy The Training Officer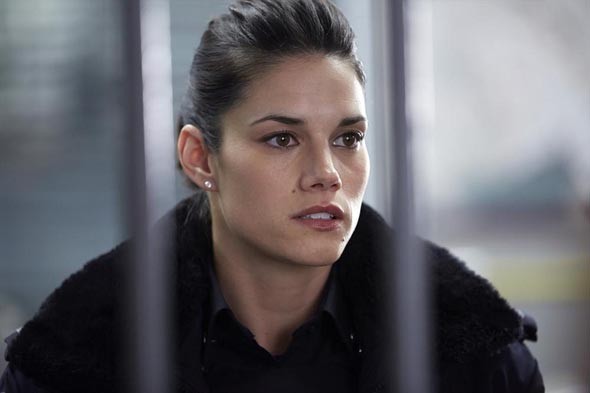 ABC might've billed Thursday's Rookie Blue as a two-hour season premiere, but what it actually is, is two separate episodes broadcast as one package. This becomes apparent from the jump, because everything seems like at least a few days have passed since the events of the previous installment, and McSwarek fans are not going to be happy with what's happened since.
Oliver is 15 Division's new acting Staff Sergeant without the room looking too shocked over Frank's departure, and Andy is awkwardly visiting Sam while drunk, and seeming to have already been introduced to Sam's estranged sister, Sarah, who claims she's leaving tomorrow. Plus, new rookie Duncan Moore (Matt Murray) joins the team, with Andy deciding that she's ready to be made his training officer, despite the fact that just the night before she was hardly coherent and hasn't actually been prepared to train other cops. It's just get in the car and get going.
The new partners' first call is an apparent pawn shop break-in, which seems like it should be simple enough. They find a homeless guy who decided he'd come in from the cold...and then discover the owner dead in the basement. Duncan shows his lack of professionalism by wanting to take a picture of the body. Thankfully, Andy stops him and together they wait for Traci to arrive; she takes them both to task for letting the homeless guy go, since he could also be the murderer, and orders them to find him. You'd think this would take them awhile since he gave them a fake name - but instead, Andy makes one radio call and someone else rounds the guy up and puts him in a cell.
Back at the pawn shop, Traci hears Holly's preliminary guess that the owner died of a heart attack, and has enlisted the help of Dov and Diaz to start going through receipts and inventory respectively. Diaz hands her a golf club apparently used to break one of the cases in the shop, which she wants immediately tested for fingerprints. She returns to the office to question the homeless guy, who suggests "a few people had an issue with [the owner]" because he was a cheat.
Meanwhile, overeager Duncan completely botches the death notification and forgets to turn his phone off while Andy interviews the victim's wife. We're halfway through the episode and he's done a half-dozen different things he deserves to be slapped for. After the second time his phone goes off, the widow asks Andy and Duncan to leave her house, and we can't blame her one bit. Dov and Diaz have similarly bad luck questioning one of the people who was in the pawn shop the day before, although at least she tells them of one particularly disgruntled customer (before she gives Diaz her number).
An irritated Traci tells Andy that the prints on the golf club belong to Duncan, rendering the club useless as a piece of evidence. Rather than try to enact some discipline for the walking disaster, Andy just gives Duncan a look, and winds up in Oliver's new office pleading ignorance. Oliver tells her that maybe she shouldn't have jumped up to train the new guy so fast. "He fails, you fail. You fail, I fail, and I can't fail," he continues, before revealing that Duncan's stepfather is the police commissioner. The smartest thing Duncan's said all episode is that he doesn't want to throw his stepdad's name around.