'Rookie Blue': Enuka Okuma Dishes on Traci Making Detective (Video)
It's been about a year since we last spoke with Rookie Blue star Enuka Okuma, and she's gone and gotten herself promoted! Enuka's character, Traci Nash, has become a detective this season - with tonight's episode a huge one for the rookie sleuth. Enuka kindly sat down with me recently to spill about the big sea change for Traci and how it's been for her to play.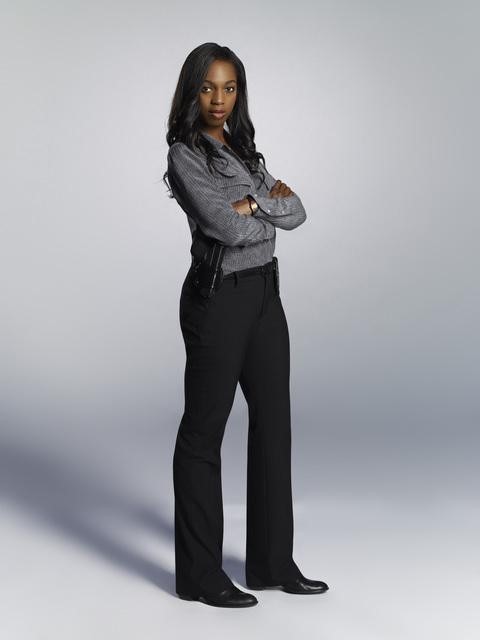 "I was actually shocked," she said of finding out about her character's promotion. "I was surprised. I knew that Traci's always had ambitions towards that, but I thought it would take a little longer. It was a really fun season for me."
And while a bigger workload for Traci didn't necessarily mean a larger one for Enuka, it did mean looking at things in another way. "It's the fact that she's focusing, she's using her brain differently," she continued. "She's using her analytical brain and she's always been interested in that side of things."
But being the new detective on the beat also means "being a rookie all over again. The new challenges, the fear, the insecurity, the royal screw-ups," Enuka explained. "And this time she's on her own. She's not with the other cops. This is a whole new territory just for Traci. It's all on me and that was pretty exciting. But you'll see the rookies are amazing because they're all very supportive of each other," she said, adding that when Traci screws up in tonight's episode, her friends are there to help her out.
With Rookie Blue renewed for a fourth season on Tuesday, where would Enuka like to see Traci head next, now that she's achieved a major career goal? "I'd like to see more of the same," she confided, "especially the struggles of being ambitious and wanting more and still trying to be a mom. Just being a cop is hard thing to do being a mom, but just being a detective and being a mom."
While Traci might struggle with her new role, Enuka is the exact opposite, enjoying a job that means she gets to work with a talented and incredibly sweet cast, including Missy Peregrym, Ben Bass and Gregory Smith. "It is a joy to go to work every day," she told me. "I know it's a cliche but it really is the truth. We get along like gangbusters. We have too much fun on set and we're all good friends now."
And that's part of why she thinks Rookie Blue has lasted for three, soon to be at least four, seasons. "We have that great chemistry off and on the set. That translates on screen," she said, adding that "It's not what you expect from a cop show. It's unique in that quality. Ensemble in the workplace, that's nothing new, but most cop shows don't focus on the relationships as ours does. And there's a comedic and a dramatic element. There's something for men and there's something for women." Essentially, everyone can find something to like about Rookie Blue.
As for Enuka, she's continuing to branch out beyond being an actress. Her short film Cookie, which she wrote and directed, and that had recently premiered last year, "did about 19 or 20 festivals last year," she said. "I'm doing some writing right now." So it's a time of growth for both Traci Nash and the woman that plays her.
Check out a clip from tonight's episode below:
You can follow Enuka on Twitter (@EnukaOkuma). For more on Rookie Blue, you can visit the show's official website. For more from Brittany Frederick, visit my Starpulse writer page and follow me on Twitter (@tvbrittanyf).
(c)2012 Brittany Frederick/Digital Airwaves. Appears at Starpulse with permission. All rights reserved. No reproduction permitted.