Ronnie James Dio Dies At 67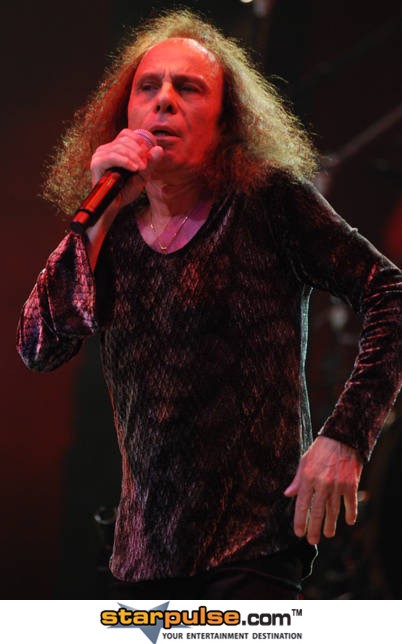 Heavy metal rocker Ronnie James Dio has lost his battle with stomach cancer. He was 67.
The Heaven & Hell star passed away at a hospital in Houston, Texas on Sunday.
His wife Wendy initially denied internet reports the rocker had died earlier in the day, but revealed he was "not doing good" - and now his partner admits she is heartbroken over the loss of her beloved husband.
In a statement to Blabbermouth.net, she says, "Today my heart is broken, Ronnie passed away at 7:45 a.m. (on Sunday) 16th May. Many, many friends and family were able to say their private goodbyes before he peacefully passed away.
"Ronnie knew how much he was loved by all. We so appreciate the love and support that you have all given us. Please give us a few days of privacy to deal with this terrible loss. Please know he loved you all and his music will live on forever."
Born Ronald James Padavona in Portsmouth, New Hampshire to an Italian family in 1942, he changed his name to Dio after mafia  member Johnny Dio.
He found fame in 1957 with The Vegas Kings; the group changed their name several times before disbanding in 1967. He then went on to front Elf with guitarist pal Nick Pantas before forming another band, Rainbow.
In 1979, Dio joined Black Sabbath, replacing Ozzy Osbourne, but after just three years he quit to form the band Dio, with drummer Vinny Appice. They went on to enjoy great success, releasing ten studio albums.
In recent years, Dio and Appice rejoined Black Sabbath members Tony Iommi and Geezer Butler to tour under the moniker Heaven & Hell, and he was also inducted into the Rock Walk of Fame in Hollywood in 2007.
Dio was diagnosed with stomach cancer last year and his health had worsened over the last few months, with Heaven & Hell announcing just weeks ago that they were cancelling all summer dates as a result of his deteriorating health.
Dio is survived by his wife Wendy, his adopted son Dan, and two grandchildren.