Ron Burgundy Delivers Pearls Of Wisdom At Emerson College Press Conference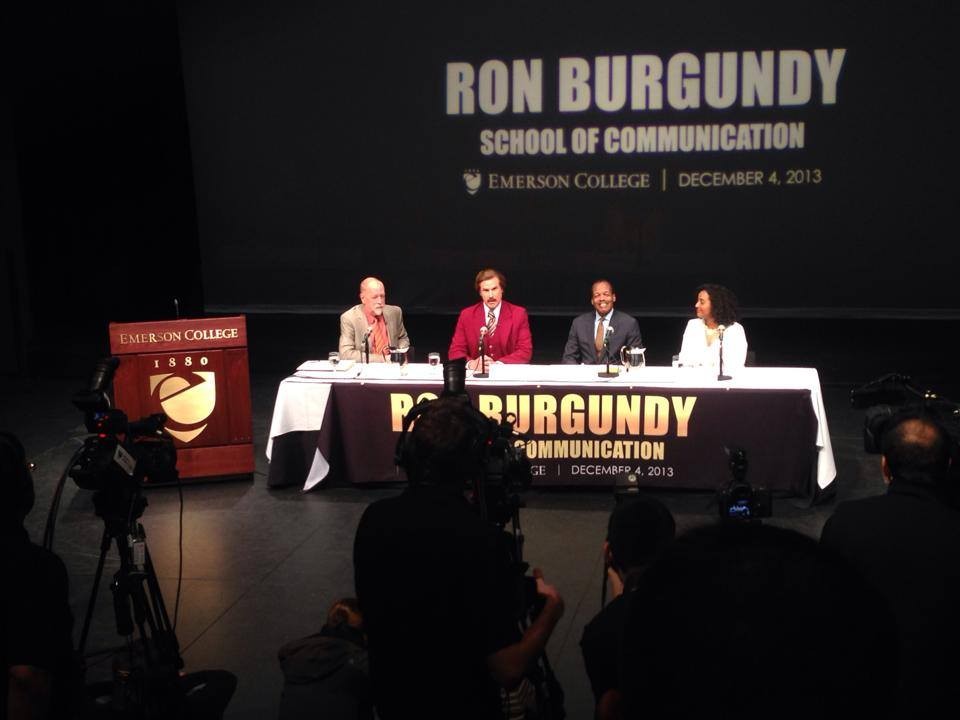 For a fictional character, Will Ferrell's anchorman alter ego Ron Burgundy has been very busy lately. Burgundy recently became a spokesman for Dodge, received his own Ben and Jerry's flavor, anchored a newscast in South Dakota, AND had Emerson College's School of Communication named after him.

That's right, in case you missed it, Emerson announced that they would be honoring Burgundy's achievements in journalism by renaming their School of Communication the "Ron Burgundy School of Communication" for a whole day. To accept the honor, Burgundy himself appeared at Emerson for a press conference on December 4. As an alum of Emerson's School of Communication, I was thrilled to cover this momentous and hilarious ceremony.

A tearful Burgundy found himself "in a glass case of emotion" as he accepted a plaque commemorating the day from Philip Glenn the interim dean for the School of Communication, Emerson President Lee Pelton, and journalism student Muna Mouchien.

The emotional Burgundy made sure to loudly blow his nose before giving a brief acceptance speech, where he thanked the "Electoral College" for allowing him to establish an institution that would stand the test of time. "A thousand years from now, when the world is controlled by robots and mutants from the X-Men series, one thing will be standing: The Ron Burgundy School of Communication," he remarked. After Pelton reminded Burgundy that the name was only for a day and not "one minute longer," the news anchor comically responded ""Oh, just one day? Not a minute more? I'll take it."

Following his prepared statement, Burgundy took questions from an audience composed of Emerson students and various members of the press from near and far. He dispensed valuable advice to aspiring journalists like "Always keep $20 in your shoe," and "You have to report the facts, unless it's too hard to find the facts." His funniest barbs though were directed at a British reporter for Sky News who he accused of having a fake accent, and New England Cable News anchor Jackie Bruno, who he complimented for "hogging the spotlight" after she asked him to sign her t-shirt.

When asked about his visit to the city of Boston and some of the improvements he planned to make to Emerson's campus, Burgundy had other equally humorous responses. He asserted that Boston was discovered by the Japanese and said that he would make several campus additions like installing a bowling alley, a pool, and a jacuzzi, that would be filled with Boston baked beans once per week.

Following the press conference, Burgundy's pal Will Ferrell hung around the Emerson campus to introduce special screenings of "Anchorman 2: The Legend Continues." ABC, posted a video comprising most of the press conference, which you can find below. If you'd like to see more of the event, you can also find a longer segment right on Emerson's site.

"Anchorman 2: The Legend Continues" arrives in theaters on December 18.