'Romeo and Juliet:' Original Motion Picture Soundtrack Released In Expanded 10th Anniversary Edition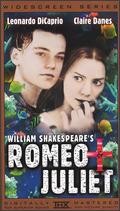 A dazzling and unconventional contemporary re-telling of
William Shakespeare
's classic love story,
Romeo+Juliet
comes to life in a whole new way on February 6 as Capitol/EMI and Fox Home Entertainment celebrate the 1997 hit film's 10th anniversary with new commemorative releases. On February 6, Capitol/EMI will release an expanded 10th Anniversary Edition of the film's hit soundtrack on CD and digitally, and Fox Home Entertainment will release an expanded Music Edition DVD. Both releases include previously unreleased and newly produced material. Capitol/EMI's soundtrack is expanded to 18 tracks for the new 10th Anniversary Edition, featuring the original soundtrack's songs by
Garbage
,
Radiohead
,
The Cardigans
and
Everclear
, as well as five new additions, including a brand new 2007 remix of Baz Luhrmann's "Everybody's Free (To Wear Sunscreen)" by Quindon Tarver, and, also making its release debut, Tarver's version of "When Dove's Cry" as it was performed in the film.
Filled with an array of bonus materials produced by writer/producer/director Baz Luhrmann's (
Strictly Ballroom
,
Moulin Rouge
) production company Bazmark, Fox Home Entertainment's Romeo+Juliet Music Edition DVD takes audiences on a spectacular journey through the sonic montage of the lavish musical odyssey. Special features include three new audio commentaries including one by Luhrmann, a comprehensive 40 minute documentary that takes you on an exploration of the soundtrack creation - a crucial part of the film's creative success - with music producing icons Craig Armstrong (Moulin Rouge,
World Trade Center
) and Marius DeVries (Moulin Rouge, "Madonna: The Video Collection 93:99"), three new "Journey of The Song" featurettes and the Music Machine, a juke box function that takes you to your favorite music in the film, and more. The wildly inventive and utterly unforgettable Oscar®-nominated* adaptation features scintillating performances from the brightest stars in Hollywood, including
Leonardo DiCaprio
(
The Departed
,
Titanic
),
Claire Danes
(
Shopgirl
,
The Family Stone
),
John Leguizamo
(
Summer Of Sam
, Moulin Rouge),
Harold Perrineau
("
Lost
,"
The Matrix Reloaded
),
Paul Rudd
(
The 40 Year Old Virgin
,
Anchorman
),
Jamie Kennedy
(
Scream
,
Malibu's Most Wanted
) and
Pete Postlethwaite
(
The Omen
,
Jurassic Park: The Lost World
).
Romeo+Juliet: Original Motion Picture Soundtrack (10th Anniversary Edition)
1.
Garbage
#1 Crush
2.
Everclear
Local God
3.
Gavin Friday
Angel
4. One Inch Punch Pretty Piece Of Flesh
5.
Des'ree
Kissing You (Love Theme From Romeo & Juliet)
6.
Butthole Surfers
Whatever (I Had A Dream)
7.
The Cardigans
Lovefool
8. Kym Mazelle Young Hearts Run Free
9. Quindon Tarver Everybody's Free (To Feel Good)
10. Mundy To You I Bestow
11.
Radiohead
Talk Show Host
12. Stina Nordenstam Little Star
13. The Wannadies You And Me Song
14. Conducted by Craig Armstrong Introduction To Romeo*
15. Quindon Tarver Baz Luhrmann Presents: Everybody's Free (To Wear Sunscreen) 2007 Edition*
16. Conducted by Craig Armstrong Kissing You (Love Theme From Romeo & Juliet) (Instrumental)*
17. Kym Mazelle, Harold Perrineau & Paul Sorvino Young Hearts Run Free (Ballroom Version)*
18. Quindon Tarver When Doves Cry*
* newly-added 10th Anniversary Edition tracks
Stream the full album:
Windows Hi
|
Quicktime Hi
|
Windows Lo
|
Quicktime Lo
"Everybody's Free (To Wear Sunscreen)"- (New Track):
Windows Hi
|
Quicktime Hi
|
Windows Lo
|
Quicktime Lo
Radiohead "Talkshow Host":
Windows Hi
|
Quicktime Hi
|
Windows Lo
|
Quicktime Lo
(Streaming audio and/or video links may expire without notice)