Rolling Stones Had To Ditch Original 'Some Girls' Album Cover Over Copyright Rules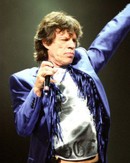 Mick Jagger is still sore about the fact he and his Rolling Stones band mates had to ditch cover art featuring movie stars like Doris Day and Joan Crawford on their album "Some Girls."

The 1978 album art features images of Jagger and his band mates dressed up as women, but he reveals they had other plans and he was "disappointed" when the group's lawyers couldn't secure the rights to use images of screen sirens.

In an interview filmed for the newly-released concert film "The Rolling Stones: Some Girls Live in Texas '78," he says, "On the original version we had kind of old-fashioned pictures of Hollywood film stars - I think Doris Day and Joan Crawford - and then we got into some copyright problems with that... They (lawyers) didn't get the right permissions from the artists.

"We had to change the cover and it was a big hassle. The cover was a really good cover and we loved it... It was quite disappointing for Charlie (Watts) and myself."

The new DVD/Blu-Ray concert movie, filmed at a 1978 show in Fort Worth, also features footage of the Rolling Stones performing Shattered, Respectable and Beast of Burden on a 1978 episode of Saturday Night Live and an ABC TV interview with the band at their Woodstock, New York rehearsal space from the same year.