Roku 2 XD [REVIEW]: Perfect for Catching Up on Fall Favorites Before Summer's Over
Parks and Recreation and Community, previous to this summer, were two of the most beloved shows by fans and critics that I had somehow never gotten around to before. (And yet I found time for Teen Wolf!)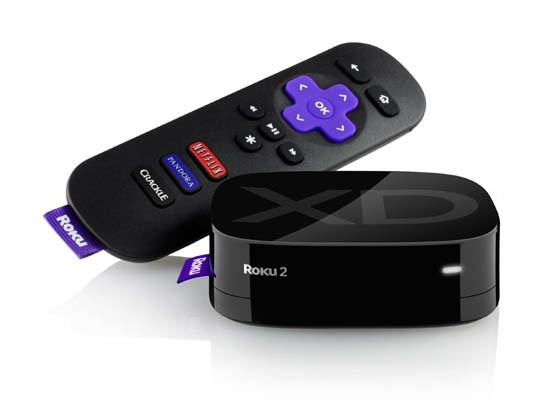 Determined to change that, I started marathon watches first for Parks and Recreation, and then for Community—starting with Netflix and then going to Hulu Plus. (Don't get me started on the fact that I needed subscriptions to both services to complete my re-watches.)
I used both streaming services on my AppleTV and then my TiVo Premiere because at the time, Hulu Plus was not on AppleTV. (It is now.) In that time, I decided to finally give a Roku box a try, and even though I don't "need" it anymore, it has remained my go-to device for both Hulu Plus and Netflix.
Unfamiliar with the Roku brand? They were one of the first streaming boxes on the market offering Netflix and quickly added more and more partners. The Roku 2 is the second-generation family of streaming players from Roku. I reviewed the Roku 2 XD, but there's also the Roku 2 XS which allows you to play casual games on your TV including Angry Birds.
All Roku boxes offer more than 500 channels of streaming entertainment. Your favorites and go-tos like Netflix, Hulu Plus, Amazon Instant Video and HBO go are there, but you can also get live and on-demand sports from NBA Game Time and MLB.tv, access to social networks like Facebook and Flickr, and access to Pandora, Rdio, Live 365 and other popular online radio streamers.
It's a lot. More than you think. I barely scrapped the surface when trying some of their channels.
For instance, the Netflix experience is on par or equal to other streaming devices like the AppleTV, but the Hulu Plus app has never looked better. You can jump from episode to episode while enjoying marathon watches during the credit sequence. And it seems to do a bit better job of remembering my place than the Netflix app does – sometimes I had to start all over because it lost my spot – making it my go-to app on the Roku box, even if the ads got repetitive awfully equally.
Setting up your existing log-ins for HBO Go, Flickr, Hulu Plus, etc. couldn't be easier. Just make sure you have your computer handy.
The remote is small and has a dedicated Netflix, Pandora and Crackle buttons—as a Hulu Plus diehard, I really wish one of those buttons was for that service. (But I know I'm in the minority.)
The Roku box itself is extremely small, but has a cute a rounded design with a small little Roku-branded tag sticking out of it—there's also one that sticks out of the remote too.
Here's a few quick technical features for the Roku 2 XD box:
Support for 480i/480p/720p/1080p HD video qualitySupport for English subtitles when streaming NetflixBuilt-in wireless 802.11n with WEP/WPA and WPA2 supportmicroSD slot for additional channel and game storageWeighs only 3 oz and is only .9" high and 3.3" long
One quick note about the audio: you can either get it via the HDMI port or a composite wire, which of course is not in HD. I prefer to use optical wires for my devices because my AV receiver only has optical inputs (it's 10 years old). Composite was fine for me, but this is something to keep in mind if you've got some, but not all, legacy products in your stereo system. This isn't really a fault of Roku in my opinion—it's just time I upgrade my receiver clearly.
If you need that Ethernet port for a wired Internet connection, or really want to play games on your Roku, you should look at the Roku 2 XS for only twenty dollars more.
The Roku 2 XD is a great solution out there for those who don't have as many streaming devices in the home as me. Or someone who wants one of the best implementations of "channels" such as Hulu Plus.
And if nothing else, the Roku 2 XD has got me incredibly excited for the season premieres of Community and Parks and Recreation this Fall.
The Roku 2 XD costs $79.99 and is available at www.Roku.com, Best Buy, Fry's, RadioShack, Target, Amazon and more.
* DISCLOSURE: A Roku 2 XD was provided by Roku for the purposes of this review. *