'Rockville, CA' Stars Talk About The New Music-Oriented Web Series

The new web-series "Rockville, CA" is the brainchild of Josh Schwartz (
The O.C.
,
Chuck
&
Gossip Girl
). The series centers on a group of 20-somethings who gather regularly at a club to hear their favorite up-and-coming bands, blow off steam, and fall in love with the wrong people. Each 4-6 minute episode also features performances by such indie bands as
Lykke Li
,
The Kooks
and
Anya Marina
.
The scripted, music-oriented series features the roller-coaster relationship between Hunter (
Andrew West
), the hipster-cute smart guy, and Deb (
Alexandra Chando
), the consummate go-getter.
Starpulse had a chance to ask the two stars some questions about the new web series:
What drew you to this project?
Alexandra
: Initially I got excited about the people who were involved. Josh Schwartz is obviously known to create well written and highly successful shows, and Alex Patsavas creates the most beautiful soundtracks. As I read the first episode though, I was instantly drawn to the relatable qualities of these characters and the extremely smart and witty writing. What it comes down to is the fact that it was clear that 'Rockville,CA' was a quality project, with a fresh and innovative plot.
Andrew
: I got a chance to see the scripts for the first 2 episodes during the audition process and was immediately drawn to the fast-paced dialogue.
Hunter was a character with a personality that jumped off of the page, which isn't always the case with a lot of scripts. I knew it would be a lot of fun to tackle his monologues and flesh out his ultimately lovable more-knowledgeable-than-thou attitude in regard to music. The scripts were very funny and well written which is a treat for actors.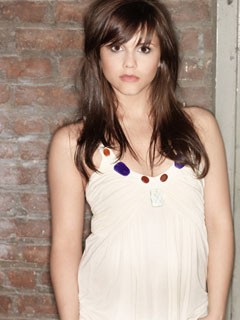 How would you describe your character?
Alexandra
: Deb is a young talent scout for a record label. She is extremely passionate about music and her work. I think she is a strong female, in that she makes it clear that she won't change her physical appearance to impress a guy. She is quick-witted, can be sarcastic, and definitely has a wide knowledge of music, past and present. I think she is a very realistic representation of someone in her position, which makes her extremely relatable.
Andrew
: Hunter is an intelligent guy who is somewhat socially inept. He is extremely opinionated especially when it comes to music, and this character trait causes him to sometimes come off as abrasive. All in all, he is a sweet guy who could use a little assistance in the romance department.
What kind of relationship do Hunter & Deb have?
Alexandra
: Hunter and Deb definitely find their match in each other. I say that because like Deb, Hunter is also a type of music geek and is very opinionated about music. Therefore they kind of tend to step on each other's toes and create a challenge for one another-a challenge each haven't experienced in the past. Though in the beginning they aren't the biggest fans of each other, it's an interesting dynamic. There is definitely a particular chemistry there.
Andrew
: Hunter and Deb are more alike than they realize, and this causes them to get off to a rocky start when they meet each other in the first episode. They are two people whose interests and sensibilities make them intolerable to one another but at the same time they can't help but be drawn to each other. They would make a nice fit, and because that very fact seems so obvious to everyone else, the two of them resist it.
Rockville, CA, takes place in a rock club. What's on your playlist right now?
Alexandra
: I tend to listen to 'one song playlists' on repeat, haha. So this week it's been tons of Radiohead! But a few songs from an ideal playlist are: "Fake Plastic Trees"-
Radiohead
, "Time of the Season"-
Dave Matthews Band
(Live), "Robocop"-
Kanye West
, "Death"-
White Lies
, "Sleepyhead"-
Passion Pit
, "Be Here Now"-
Ray LaMontagne
, "Water"-
The Roots
.
As you can see, I have a very wide range of musical interests. I'm usually into more mellow (or as my friends call it, depressing) music. However, the music of Rockville has expanded my horizons.
Andrew
: Currently my playlist consists of
Fleet Foxes
, White Lies (a band I was introduced to through Rockville), The Kooks (another Rockville band), Little Joy,
Minor Threat
, Superdrag, and always
Creedence Clearwater Revival
. Nico Stai pops up on there as well (yet another Rockville guest.)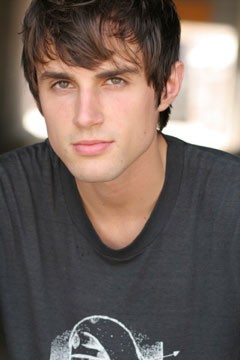 Music is a central theme on Rockville, CA. How important is music in your life?
Alexandra
: Music is extremely important in my life. I constantly have music playing in my house. And I definitely have a few songs that now give me anxiety when I hear them because I relate them to some event (or some person) that happened in my life. I associate everything with music and vice versa.
Andrew
: Music is very important. My ipod is constantly playing in my apartment and in my car. I played guitar in a punk rock band in high school for about two years.
What bands would you like to see on the series?
Alexandra
: That's a tough one. I think what was the most exciting thing about shooting these last 20 episodes, is that many of the bands, though up-and-coming, are unknown to me. Alex Patsavas did such an amazing job of bringing in the bands and incorporating them into the storyline and vibe of the show. Each one fit in perfectly. I don't think I could even begin to think of who I would like to see on the series. Trust me, with the music I listen to, everyone would be weeping on set.
Andrew
: It would be exciting to see the
Yeah Yeah Yeahs
or Little Joy on the show. They would fit in well at Rockville.
"Rockville, CA" premieres on TheWB.com March 17.
Story by
Noelle Talmon
Starpulse.com contributing writer