Rockstar Wives Take You For A Ride This Season On VH1's "Supergroup"

This week on VH1's "
Supergroup
" (airing Sunday, 6/11 @ 10 PM ET/PT) Evan Seinfeld's wife (porn superstar Tera Patrick) arrives, as does Sebastian's wife, Maria (aspiring porn superstar?). Will what happens in Vegas cause problems back home?
VH1's "SuperGroup" is
Ted Nugent
,
Scott Ian
(
Anthrax
),
Sebastian Bach
(
Skid Row
), Evan Seinfeld (
Biohazard
) and
Jason Bonham
, are poised to re-conquer the rock world (and hopefully spread a little debauchery in the process) in the ultimate musical experiment. "SuperGroup" will bring together these five hard rocking icons and present them with the opportunity to create the heaviest "SuperGroup." Ultimately viewers will see whether or not the band will come together as hard rock's saviors or simply implode.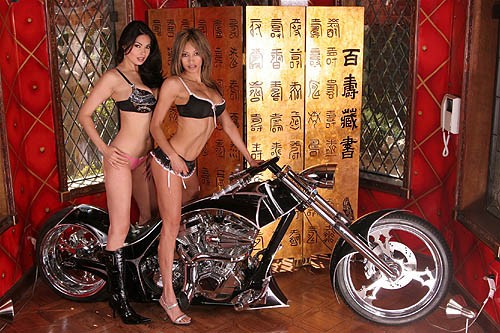 Pictured (L-R): Tera Patrick, wife of Evan Seinfeld and Maria Bierk, wife of Sebastian Bach during a "Supergroup" photo session.