Rockin' and Reelin': Seven Spectacular Movie Concerts

Pull out your lighter, turn up the volume, and get ready to throw up the horns. This jammin' compilation is my top seven compilation of climactic movie concerts. Why seven? Seven is a nice odd number.
When I first decided to form a list of top movie concerts, I thought having a wealth of film knowledge would help me out. Sitting down to draft the list however, I found myself at a loss for ideas. I couldn't see the forest for the trees, and plots sat jumbled together in my head.
After thinking for a few days and taking a stroll through my neighborhood Blockbuster's going out of business sale, waves of inspiration hit me. I waltzed out of the store with several movies, a couple of which made it onto this list.
As with any of my compilations, I'm sure there are bound to be ones on the list you disagree with, or plenty of movies I have overlooked, so feel free to sound off. For my part, I'll do my best to channel
John Cusack
from "
High Fidelity
" for this top seven count-down.
7.
SCHOOL OF ROCK
Some people might be mad this is included on the list since it's a kid's movie, but the final concert is entertaining. The song that Jack Black and his students sing is rather corny, but it seems like everyone is having a great time.
The role each child plays in the band is great, and it's interesting to see how these roles come together to make the song a success. Watching the characters from the beginning of the film, it's nice to watch their confidence grow once they become performers.
Jack Black has a pretty hilarious look, sporting the school boy outfit, made famous by AC/DC's Angus Young. Black's signature goofy vocals shine through but don't completely overshadow the rest of the performance.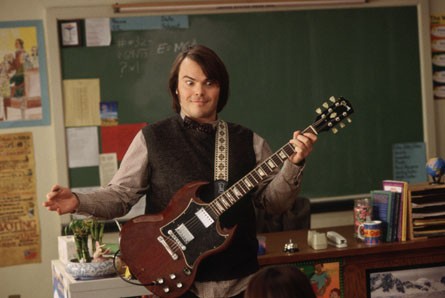 Image © Paramount Pictures