Rockers GWAR Cancel European Tour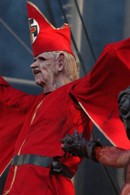 Heavy rockers GWAR have cancelled their upcoming tour of Europe due to slow ticket sales.

The masked group, which was rocked by the tragic death of guitarist Cory Smoot, aka Flattus Maximus, in November, recently completed a North American tour and had planned to head to Belgium in January to kick off the next leg of their trek.

But the stars have struggled to fill seats for their 2012 roadshow and have been forced to scrap the whole set of dates as a result.

In a statement, GWAR says, "Ticket sales were slow so promoters started pulling the plug on shows. Finally we had so many blow-outs that we had no choice but to cancel the whole thing.

"We can't afford to pay to play Europe; after all, we aren't f**king tourists! But we are extremely disappointed this happened and very sorry for our fans over there, especially in light of recent events. I know everybody over there wanted to say goodbye to Flattus in a way that only a GWAR show could provide, and we were really looking forward to sharing that with you guys...

"Again, we are really sorry this happened, but there was nothing we could do. (We are) very, very bummed... but GWAR still lives, and will return to reap a bloody vengeance too terrible to comprehend."