Rocker Dave Navarro Gets Naked For PETA In Shocking New Cruelty-Free Cosmetics Ad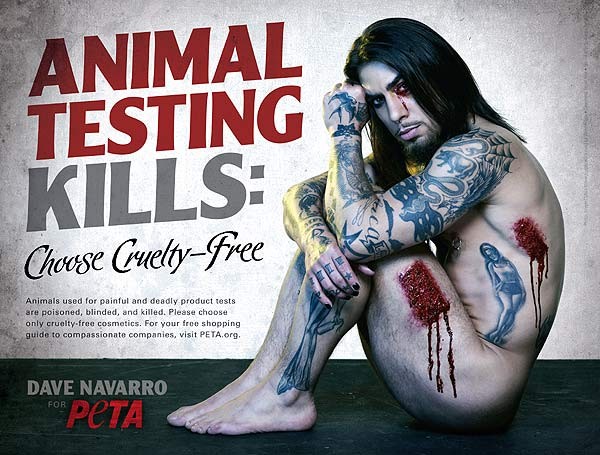 Rocker Dave Navarro has bared all for a shocking new PETA ad that sends out a message about animal cruelty in the cosmetics industry.

The Jane's Addiction guitarist is often seen wearing plenty of eye makeup, nail polish and more, and he recently learned that some beauty product firms use cruel animal testing to determine if their products are safe for human use; so he decided to only use products that aren't tested on animals.

Unlike the European Union and Israel, where animal testing has been banned in the cosmetics industry, there are no current laws in the U.S. prohibiting animal testing on cosmetics and there are no laws that require it either.

"I defy anyone to watch this stuff and explain to me why it's okay," says Navarro in his behind-the-scenes video from his photo shoot.

"I like the extreme, I like shock value, I like things that slap people in the face and wake 'em up..." he says; "I was on the set of... some project where I was using makeup and someone mentioned that it was 'cruelty-free' and I said, 'well, what does that mean?'"

That person explained that a lot of makeup is tested on animals in a "profoundly inhumane" way.

And now he's doing something about it. In his second ad for the company, Navarro strips off and appears with patches of bloody patches where his skin might have been torn off and bleeding eyes to symbolize the tortures that animals go through when being tested.

"They're not taking a bunny rabbit and putting mascara on it. They're injecting a chemical directly into its eye to see what kind of adverse reaction happens to it. In many cases, parts of their body are ripped open. They're all alive, and they're all aware. It's torture for the animal, it's terrifying and painful and probably one of the cruelest things done in the name of vanity."

Navarro's first ad was for the organization's "Ink, Not Mink" campaign against fur.

So the next time you're at the drugstore do your research and buy only cruelty-free cosmetics and help send a message to the companies still using this unnecessary practice to test their products.

As usual, the below video contains graphic images of animal cruelty.