'Rock Of Ages' Star Julianne Hough: Tom Cruise Cares About Me - Now I Can Cry!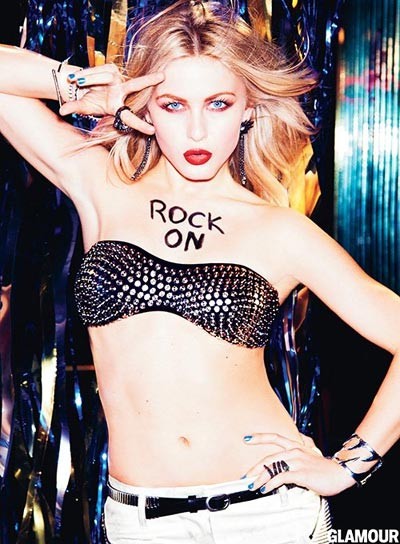 Julianne Hough is ready to rock you in her upcoming film, Rock Of Ages, based on the hit Broadway musical of the same name.
In the film, which hits theaters Friday, June 15, the Dancing With The Stars pro stars alongside Tom Cruise, Russell Brand, Diego Boneta and Catherine Zeta-Jones; and she has great things about her experience with Cruise.

Ahead of the film's opening, Julianne posed for a sexy photoshoot and sat down for an interview for the July issue of Glamour magazine.

Julianne reveals that while filming her first scene with Hollywood heavyweight Cruise; who plays aging rocker Stacee Jaxx in the film; she was super nervous about filming with him - especially after several takes when Cruise's character is supposed to hold her breast.

"That was my first scene with him!" Julianne exclaims. "I was nervous as all get-out, but after every take he high-fived me and was like, 'That was awesome.'"

We're not sure if Cruise meant the take or getting to hold Hough's ample bosom.

Later on during the shoot Julianne was injured, and it was the seasoned veteran who came to her aid.

"At one point on the movie, I got really hurt—I tweaked my neck and was in so much pain," she explains. "And everyone was pressuring me to keep shooting, but Tom came in and said, 'No, this is what insurance is for, Julianne. You have the rest of your career. You need to take care of yourself!' And I thought, Tom Cruise cares about me! Now I can cry."