Rock Legend-Drummer Carl Palmer Releases New Anthology CD and DVD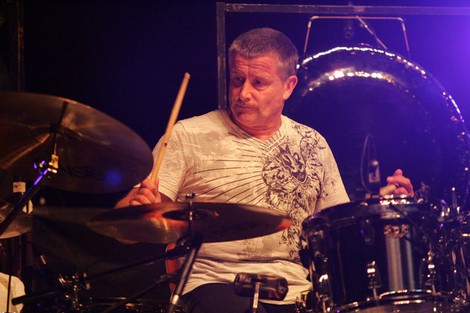 Carl Palmer is among the world's most renowned drummers. He's known for his work with Emerson, Lake & Palmer, ASIA, and now he has his solo 2-CD anthology entitled, "Carl, Do Ya Wanna Play?" and DVD, DECADE:10TH Anniversary Carl Palmer, released on March 11th  and is now available on his website as well on the Music Video Distributors MVD Entertainment Group's website. It also features an acclaimed art film by British director Andrew Cross which presents Palmer's drum solo as a form of physical art.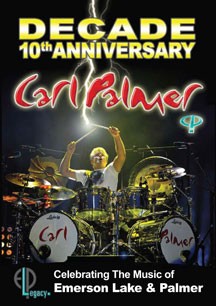 The DVD chronicles Carl's 2011 solo tour show and commemorates the 10th Anniversary of his legacy ELP band. The expanded CD is a compilation covering 50 years of recordings with bands he's performed with over the years; including ELP, ASIA, Carl Palmer Legacy, The Craig, PM, Mike Oldfield, and other acts he's worked with.
"I am very excited to have these titles coming out and available finally for my fans,"says Palmer in a statement, who has been touring since his group launched its 2014 tour with a sold out show in Rio De Janiero, Brazil, on January 18. "Decade is a complete show by my band, and features our power trio interpretations of the greatest songs of ELP and select classical composers. If you loved ELP but want to hear these songs done in a completely different musical environment, this DVD is something you will want to see and own. We are extremely proud of the final product, which was captured at one of our shows on the 2011 tour."
His remarks on The Solo film," The Solo was an art film I was asked to be involved with by film maker, Andrew Cross. The idea was to show the audience that a drum solo and exploration of various percussion instruments could be positioned as a work of art." The film has received rave reviews at screenings done in art museums in England, with critic, Stephen Lee in his review, saying, "The Solo transforms an unassuming landscape into the spatial re-enactment of music as a pop idyll."
The newly expanded version of Palmer's UK-only two disc compilation, Carl, Do Ya Wanna Play:The Carl Palmer Anthology features his greatest works of the legend's career with ELP, ASIA, Atomic Rooster, Mike Oldfield and as a solo artist. It also includes a rarity of Palmer performing with the Buddy Rich Orchestra, at the insistence of the famed jazz drummer and long time friend of Palmer's.
His red-hot power trio, Carl Palmer's ELP Legacy features Palmer on drums and percussion; guitarist, Paul Bielatowicz and bassist Simon Fitzpatrick.  Palmer states, "Since 2001, I have been playing with  my own power trio, replacing the keyboards with electric guitar. I felt that was the only honest way to approach the music of ELP. I didn't want to have a singer that sounded like Greg Lake. ELP did so much instrumental music that the format made so much sense to me. Hearing the keyboard parts done on guitar is certainly different, but just as satisfying. The idea was to re-invent the music; there will be several new classic ELP tunes this time around." 
Palmer closed the chapter of ELP in his life when the band played a final show in 2010 at London's High Voltage Festival, where they celebrated the band's 40th Anniversary. "ELP has ended its on-again off-again existence when we did 'High Voltage.' We had a great run and remain friends, but the best way I can honor our musical legacy is to present that music the way I do with my own band."
More information can be found on Carl Palmer's website.