Rock And Roll Hall Of Fame Round Up: Star-Studded Nirvana Tribute, Hall & Oates, KISS & More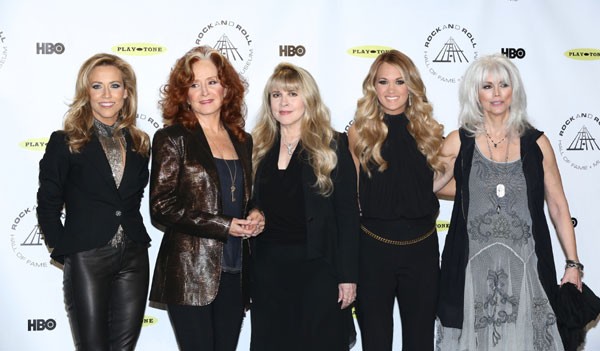 The surviving members of Nirvana paid tribute to late singer Kurt Cobain at the Rock and Roll Hall of Fame induction ceremony in Brooklyn, New York, on Thursday by inviting several women of rock on stage to perform the band's classic songs.
Joan Jett sang "Smells Like Teen Spirit," Sonic Youth's Kim Gordon belted out "Aneurysm," St. Vincent sang "Lithium," and Lorde closed out the set with "All Apologies."
Cobain's mother, sister and his widow, Hole singer Courtney Love, joined drummer Dave Grohl and bassist Krist Novoselic on the podium at the Barclays Center to honor the grunge singer.
Despite some past animosity between the band and Love, she labeled Grohl and Novoselic her "family," hugged them, and told the audience, "I just wish that Kurt was here to hear this and feel this and be this. Twenty years ago, the Rock and Roll Hall of Fame maybe wasn't (something he'd appreciate), but today he would have appreciated it. He would have appreciated Krist and Dave... his mother and his sister being here..."
Love and Cobain's daughter Francis Bean was sick and missed the induction.
Other highlights from the event:
-Bonnie Raitt, Emmylou Harris, Sheryl Crow, Carrie Underwood and Stevie Nicks honored Linda Ronstadt, who also missed the ceremony due to illness
-The Roots drummer Questlove inducted Hall & Oates, whose rendition of "She's Gone" was slightly stalled during a technical malfunction
-Coldplay singer Chris Martin honored former Genesis singer Peter Gabriel as a solo artist
-Bruce Springstreen paid tribute to his E Street Band, thanking every musician who ever played with the group, including late saxophonist Clarence Clemons and his sidekick and "consigliere," guitarist Steven Van Zandt
-KISS members Gene Simmons, Paul Stanley, Ace Frehley and Peter Criss reunited on stage but didn't perform at the event because current members Tommy Thayer and Eric Singer were not inducted into the Hall of Fame
-Art Garfunkel honored Yusuf Islam, a.k.a. Cat Stevens