Robo-Cruise Wrecks 'Rock of Ages'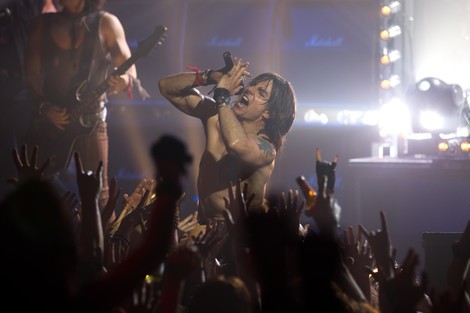 Adam Shankman's musical "Rock of Ages" is fantastic…for about 20 minutes. His film adaptation of the Broadway musical brilliantly combines powerful 80s rock songs to create an entertaining opening. However once Tom Cruise shows up as rock superstar Stacee Jaxx, the picture takes a serious nose dive.
I know what you're thinking, and no his voice isn't the problem; Cruise's vocals are fine. He and the other actors in the film have Auto-Tune to thank for that. Cruise literally does everything to look, sound, and move like a rock star, except for showing any genuine conviction. It's like someone programmed a robot to play the character, but left out the emotion chip.
Writers Justin Theroux, Allan Loeb, and Chris D'Arienzo don't give him much to work with either. Jaxx speaks in nonsense, and not the funny variety like Cruise's Les Grossman in "Tropic Thunder," the crazy kind, which makes Jaxx completely irrelevant. None of those gripes would be such a big problem though, if this adaptation hadn't enlarged Jaxx's presence.   
D'Arienzo, who wrote the original musical, labors with Theroux and Loeb to tweak other elements to suit moviegoers. Logically they remove a couple of characters to simplify the tale and they make the ending happier. The writers replace German real estate developers with a moralistic mayor's wife (Catherine Zeta-Jones), who wants to close down the Bourbon Room rock club for its sinful activities. They also don't kill anyone or give their characters a pessimistic view of the world at the end.
Unfortunately the writers don't change enough from the original musical, since we don't get quality, strong female characters. Sherrie Christian (Julianne Hough) arrives in Hollywood hoping to become famous for her singing, but as soon as she meets Bourbon Room barback Drew Boley (Diego Boneta), she abandons her own quest to tag along with him. When Drew ditches her, she turns to working at a strip club, a degrading profession, to make money. We come to find out that rejection by Stacee Jaxx actually motivates Catherine Zeta-Jones' character, and Malin Ackerman's Rolling Stone reporter swoons for Jaxx even though he treats her like crap. Not a great movie for women.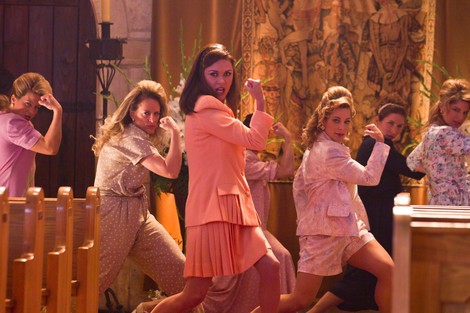 At least "Rock of Ages" has the skilled direction of Adam Shankman, who helmed 2007's "Hairspray." Shankman knows how to shoot energetic musical sequences loaded with epic dance numbers. Highlights include a head-banging mash-up of "Jukebox Hero" and "I Love Rock N' Roll," a rousing version of "Hit Me with Your Best Shot" and a tender duet of "Waiting for a Girl Like You." However his visual prowess can't save every number. The songs which take place at the strip club are pretty boring despite the risqué setting.
Other highpoints in the film come from spirited performances by a couple of key actors. Paul Giamatti channels his inner dirtbag to play Stacee Jaxx's oily manager. His thick mustache, sideburns, and ponytail really help him look the part. Bryan Cranston is amusing in his small role as the mayor, especially in a song where he gets punished for being naughty. Oddly the greatest comic relief comes from Alec Baldwin and Russell Brand, who play Lonny and Dennis, the Bourbon Room's bromantic managers. They help lift the movie up at some of its lowest points.  
"Rock of Ages" features amazing 80s songs, but the original versions are more fun than this movie. Even if you love hair bands like me, you'll probably find yourself nodding off partway through this 2 hour snooze-fest. If you want exciting music, go see a live show at one of your local venues instead.   
My Grade: D