Robin Williams Was 'More Than A Comedian'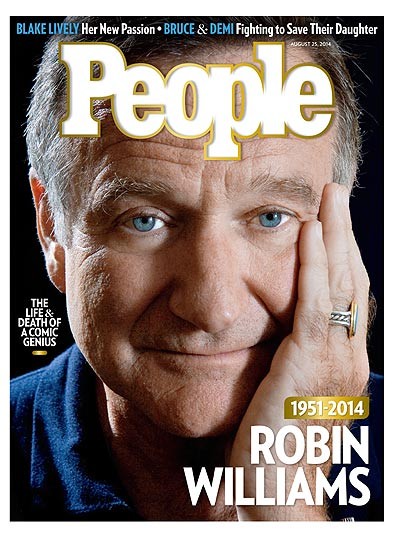 Robin Williams brought joy and light to millions but struggled with a darkness that may have led to his death at the age of 63. In a special 12-page cover story in this week's issue of PEOPLE, friends remember a comic virtuoso who, according to Mork & Mindy director Gary Marshall, "could make everybody happy but himself."
Marshall recalled walking on the Paramount set with Williams late at night, talking.
"Robin always had more energy than any person anywhere, in any room," he tells PEOPLE. "I said to him that night, 'Do you think we will ever grow up?' and he said, without missing a beat, 'I'm afraid if I ever grow up, I won't be able to make a living.'"
Williams "was a guy who had the highest of highs while performing," says Bob Zmuda, the creator of Comic Relief. "But when he walked off the stage and went back to the dressing room alone, he could face the lowest of lows."

Last month, Williams, 63, entered rehab to "fine-tune and focus on his continued commitment" to sobriety, his rep said at the time. It was a battle the brilliant and complex father of three fought for decades, first quitting alcohol and drugs cold turkey after the 1982 drug overdose death of John Belushi and later seeking treatment again in 2006.
He was struggling with severe depression when he died. "The process of being a comic is a painful one," says producer George Schlatter, who helped launch Williams's TV career. But what he remembers best is Williams's joy when he was in the spotlight. "For him, performing was sheer utopia," Schlatter says. "He was a true original. He was more than a comedian, he was an adventure."

*Also in this week's People:*

'People' Talks To Blake Lively About Her New Role -- Ceo Of Preserve
Tallulah Willis: Bruce & Demi's Daughter In Crisis
More stories are featured in the 8.25.14 issue of PEOPLE; on newsstands (and tablets) 8.15.14