Robin Williams Gushes About Honeymoon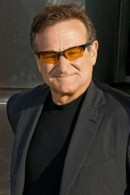 Funnyman Robin Williams has opened up about his honeymoon in Paris, France last month, calling the romantic break with his new bride "wonderful."

The Mrs. Doubtfire star married graphic designer Susan Schneider in an intimate ceremony in St. Helena, California on October 23 and the couple flew to Europe for a vacation following the nuptials.

Williams tells U.K. chat show host Graham Norton, "I was just there (France) for my honeymoon. It was wonderful... it was lovely, so great to be there."

The actor was also impressed by the paparazzi he encountered on the trip, as all they wanted were pictures of the star kissing his new wife. He adds, "They're French, it's like animal photography - they go, 'Kiss her!'"