Robin Thicke's 'Paula' Crashes And Burns In UK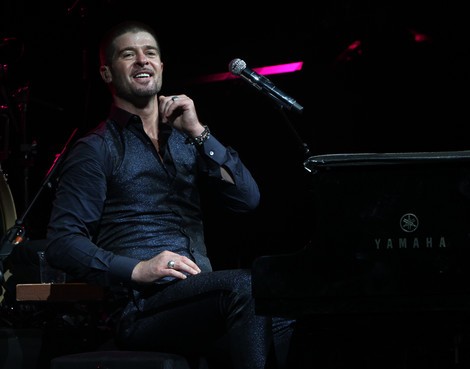 If you had one dollar for every copy of Robin Thicke's Paula (review) sold in the United Kingdom, you wouldn't be able to cover this month's rent.
The anticipated follow-up to the worldwide hit album Blurred Lines was altered when Thicke and Paula Patton divorced after several years of marriage. The album became an apology and plea to get her back, with Thicke dedicated songs to his estranged wife during live performances.
The United Kingdom wasn't buying it, literally. According to several reports, including one from The Independent, the album sold a mere 530 copies in its first week since release. Compare that to the UK numbers for Blurred Lines' first week of nearly 26,000.
In the United States, Paula didn't do much better. It reportedly sold around 25,000 copies, a drop in the bucket compared to the 177,000 Blurred Lines sold its first week last July.
Speaking of last July, the quick turnaround between albums for Thicke may have led to disappointing sales as well. Blurred Lines came out less than a year ago and its popularity led to appearances everywhere for the singer, including a U.S. Tour that technically isn't even over: Thicke has one more show in Canada on July 26.
Perhaps Robin and company should have seen this coming: Thicke's public cries for Paula have turned some fans against him, as evidenced by a recent Twitter Q&A that got really ugly, really fast.