Robin Thicke's 'Blurred Lines' More Than A One-Trick-Pony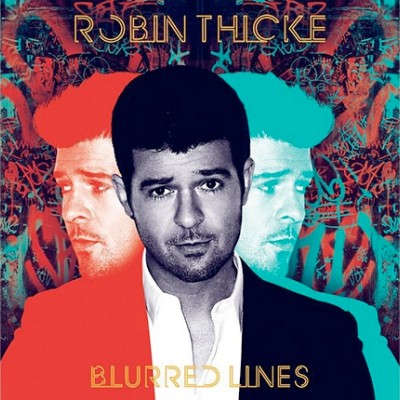 Ubiquitous summer hit "Blurred Lines" rewrote the script for what could've been a horrid narrative for blue-eyed soul singer/songwriter Robin Thicke.  The suave, falsetto-loving dude had a bad 2011 with album Love After War flopping.  I was onboard… well, for some of it, like when he proclaimed "I'm An Animal", discussed "The New Generation", and of course the title track "Love After War". 
Unfortunately, that just didn't cut it for ole boy.  However in 2013, the year of the underdog it seems (see Macklemore & Ryan Lewis), "Blurred Lines" made Robin Thicke the R&B singer that could, and he does on his sixth album, Blurred Lines.  Delivering a enjoyable set of pop-soul cuts,  Blurred Lines is no 'one trick pony'.  There are many tricks with the majority of those tricks being pretty awesome.  Add intensifiers as desired.
"Blurred Lines" is as good now as it was when Thicke shocked the world with his NSFW video, prancing around with nude girls.  It's pretty freaking infectious, despite the critical divisiveness it has incited.  It's that gimmicky, novelty cut you should write off, but it's really too good to do so.  "I'm gon take a good girl / I know you want it / I know you want it / I know you want it / you're a good girl girl / can't let it get past me / you're far from plastic / talk about getting blasted…"
Let me catch myself before it gets stuck in my head for the umpteenth time.  Pharrell assists vocally while T.I. raps as well, but does it matter and do we care? Robin's the star baby, and according to the video, he has a big…watch yo mouth!
"Take It Easy On Me" has to follow a juggernaut and that's no simple task.  Thankfully, "Take It Easy On Me" doesn't slack, placing Thicke against a danceable, modern-pop cut that's also soulful enough not to offend the "Lost Without U" crowd.  Thicke is definitely infatuated though as he sings "I'm fascinated by your stare / I'll rip through all your fancy clothes / I wanna shop for your underwear /I wanna do it all so cold…" as well as "Baby I get that you're one bada$$ chick / but I'm that guy…" He's trying hard, really hard.  He keeps dancing, but also manages to be chill on "Ooo La La". 
We all know Thicke has one of the smoothest, sensual falsettos out there, but it's nice on this particular cut to hear that mid-/lower-register shine on the ad libs.  Yeah Thicke croons, but he also shows he can roar when he wants to. Roar on brother, roar on.
"Ain't No Hat 4 That" is brief and a bit tongue-in-cheek, but Thicke eats cuts like that up. It's no "Blurred Lines", but it has the same sort of modern, yet throwback flare.  "Get In My Way" continues on stunningly, noted for its fine production work and Thicke's clear, relaxed pipes.  "Come on let's go ain't nobody gonna get in my way / I'm gonna make it, no matter what you say / I'm flying by you, better stay on your lane…ain't nobody gonna get in my way" OK Robin, we got you!
Continued With Full Album Preview On Next Page