Robin Thicke Posts Happy Family Photo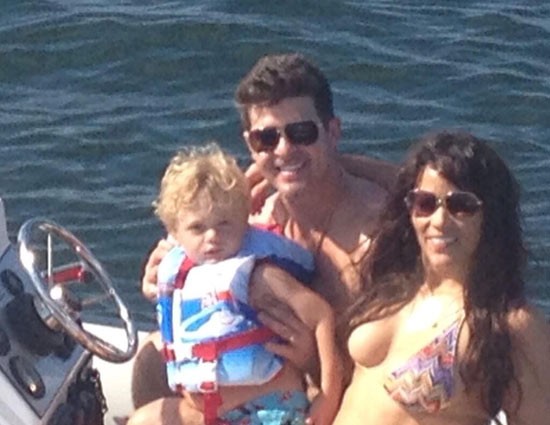 Less than a week after Robin Thicke was photographed grabbing a fan's butt, he posted a photo of himself with his wife and son enjoying their vacation in Florida.

On Sunday, the singer attended an MTV Video Music Awards after party, and he was snapped hugging a pretty blonde fan named Lana Scolaro. The photo showed a mirror reflection of the duo, revealing he had his hand on her tush.

She opened up about the incident to Celebuzz: "I knew his hand was on my butt. I posted it on Instagram and didn't notice the reflection. But someone noticed it and commented. I was just like, 'Oh I'll Instagram this photo with Robin Thicke, like everybody else."
Someone even tweeted the image to Thicke's wife, Paula Patton, pointing out the indiscretion.

On Friday, Thicke posted a pic of himself with actress wife and their 3-year-old son Julian in a boat with the caption: Family vaca!"
The family is photographed in their bathing suits. Julian is wearing a life jacket, while Paula is in a skimpy bikini.
Thicke was embroiled in controversy for his and Miley Cyrus' performance at the VMAs. Cyrus donned a flesh-colored bikini while grinding up to Thicke's groin and "twerking" during their rendition of "Blurred Lines."