Robin Roberts Praises Partner Amber Laign For Getting Her Through Cancer Battle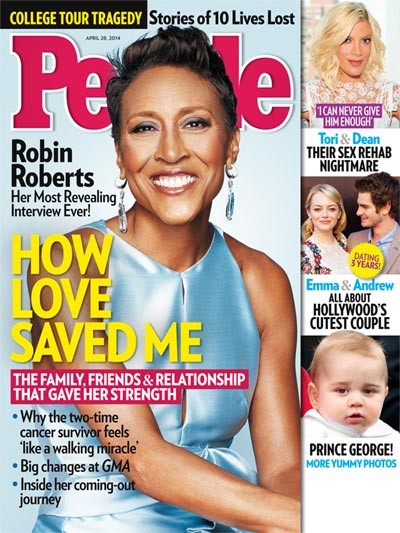 Good Morning America anchor and cancer survivor Robin Roberts, 53, opens up in an exclusive interview in this week's issue of PEOPLE about the challenges she faced and the people – including her partner of nine years, Amber Laign, 39 – who loved her through it. After facing the fight of her life against a blood and bone-marrow disease, Roberts is not only still standing, she's got a new spring in her step. "I've got my mojo back!" she tells PEOPLE. She marvels at how far she's come since undergoing a bone-marrow transplant in September 2012. "I'm so much stronger now," she says.

Sitting down with PEOPLE to discuss her upcoming memoir, Everybody's Got Something, Roberts spoke more openly than ever before about her diagnosis -- "A doctor told me that I only had one to two years to live without a transplant" – and the people in her life "who loved her through it." Notable among them is Laign, a licensed massage therapist whom she first named as her girlfriend in a Facebook post in December. "I felt that I love [my viewers] enough to let them know everything about me," Roberts explains. She also wanted to acknowledge the key role Laign played as her caregiver: "She was there, holding my hand, helping me. I have this person in my life. I love her that much, to let people know that."

*Also in this week's People:*
Sex Addiction Nightmare: Tori & Dean In Therapy On TV
Hollywood's Cutest Couple: Emma Stone & Andrew Garfield
40 Facts About Me! By Victoria Beckham
Colin Firth: My Life In Pictures

More stories are featured in the 4.28.14 issue of PEOPLE, on newsstands now.