Robin Roberts Opens Up About Her Cancer Battle & Near-Death Experience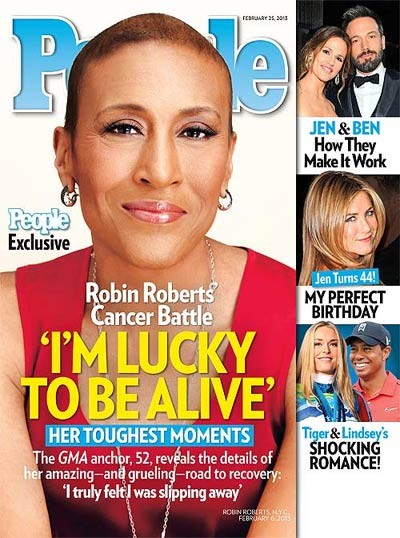 In an exclusive interview, Good Morning America anchor Robin Roberts, 52, shares her emotional battle with cancer in this week's issue of PEOPLE. She reveals details of her amazing – and grueling – fight for her life and road to recovery. "There were a lot of times in 2012 that I was looking up, going, 'Really? What next?'" she tells PEOPLE. Roberts left GMA last August to undergo a bone marrow transplant for a rare blood-and-bone-marrow disease called myelodysplastic syndrome, which can lead to a fast-growing form of leukemia.

"Every day I feel more like my old self. I didn't think I would," Roberts says, noting that she was so weak when she left the hospital in October, she could barely walk. While some shaky moments persist – "I've still got chemo brain and my vision is blurry" – Roberts is eager to return to her GMA anchor chair at last on Feb. 20, exactly five months after her transplant. "You feel bad for so long, you just want to feel normal. And now I do."

Says her sister and bone marrow donor, Sally-Ann: "I marvel at Robin's strength…We've been through a lot the last few months," including the death of their beloved mom, Lucimarian. Just as Roberts was about to begin treatment, she had to race home to Mississippi during Hurricane Isaac to say goodbye to her ailing mother, who died just hours before Robin reached her. The trip came at a pivotal moment for the terrified Roberts. "I don't care how old you are; when you're sick, you want your mom," she says, choking up. "And I wanted my mom."

Lucimarian's death left Roberts momentarily adrift. "I didn't want to have the transplant. I wanted to cancel everything and stay in Mississippi," she recalls. But she regained her resolve and soon began one of the worst parts of her battle: 10 days of intense chemotherapy to get rid of any remaining abnormal blood cells and prepare her body for her sister's healthy ones. She was largely confined to her hospital room – "Your goal for the day was to have enough strength to take a shower," she says – except for a daily walk. Fourteen laps around the nurses' station equaled one mile, but she could only go if her blood counts were good. "There was a guard, Gregory. He'd be there every morning, and we'd talk sports, politics, life. He was like my lifeline," Roberts recalls. She also decided to "bling out" her actual lifeline: the IV pole attached to her. "I put disco balls on it," she says. "It was a cool IV pole. Even the nurses, when I was walking down the hall, were like, 'You go, girl,'" she says with a laugh.

As for the actual bone marrow transplant on Sept. 20, Roberts says all she really remembers of the 10-minute procedure – despite the crowd of family, friends, and her pastor praying and singing nearby – was her transplant specialist injecting a syringe filled with three million of her sister's stem cells into a catheter in her chest and seeing him say a prayer. "I love that he prayed," she says.

Having been warned that "at one point I would feel I was dying," Roberts says, she soon reached just such a breaking point. Fading in and out of consciousness, "I was in pain I had never experienced before, physically and mentally," she recalls. "I was in a coma-like state. I truly felt I was slipping away. Then I kept hearing, 'Robin! Robin!' I came out of it, and it was my nurse Jenny. She was screaming at me. I saw her enlarged eyes above her mask, pleading for me to stay here. And thankfully I did. I came back."

The full interview with Robin Roberts is featured in the 2/25/13 issue of PEOPLE, on newsstands everywhere now.


*Also In This Week's 'People'*
Jennifer Garner & Ben Affleck – How They Make It Work: "Family Is A Wonderful Thing"
Tiger Woods & Lindsey Vonn'S Shocking Romance: "They Talk A Lot And Are Constantly Texting"
Jennifer Aniston: "It'S Nice To Be A Little Curvier Sometimes"
Exclusive Interview – Sue Paterno Fighting For Joe: "No One Can Take Joe Away From Us"