Robin Gibb Pays First Visit To London WWII Memorial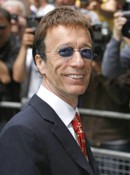 Robin Gibb put his cancer battle aside on Thursday to visit the war memorial he spent years campaigning to have built.

The Bee Gees legend, who is suffering colon cancer, has been behind a long-running fight to have the Bomber Command Memorial erected in London in memory of the aircrews of World War II.

The monument is currently under construction in London's Green Park and Gibb visited the site for the first time on Thursday, wearing a hard hat and climbing up the scaffold to get a better look.

The star admits he's incredibly proud to have won his battle for the memorial, telling Britain's Sunday Express, "This is honestly the proudest thing I have ever done. It was so important to finally see that the brave airmen who risked their lives... were finally honored and now it is happening. This memorial is bigger than even the Wellington Memorial and will still be here long after we are gone. It will last forever."